Whether you are embarking on a career as an OTR truck driver or you are launching a business as an owner-operator, one of the many legal considerations you will need to deal with is purchasing the insurance you need to drive commercially. This can be a complicated and confusing topic, so you may feel at a loss as to where to begin.
We went to help you understand and I am going to break it down for you: the requirements, the major companies out there, how to go about getting quotes, finding the best rates, and exploring the different options available. By the time you finish visiting our site, you should have a pretty solid idea what you need to do to buy the insurance you need to be on the road legally. Let's begin.
What Are the Legal Requirements for Commercial Truck Insurance?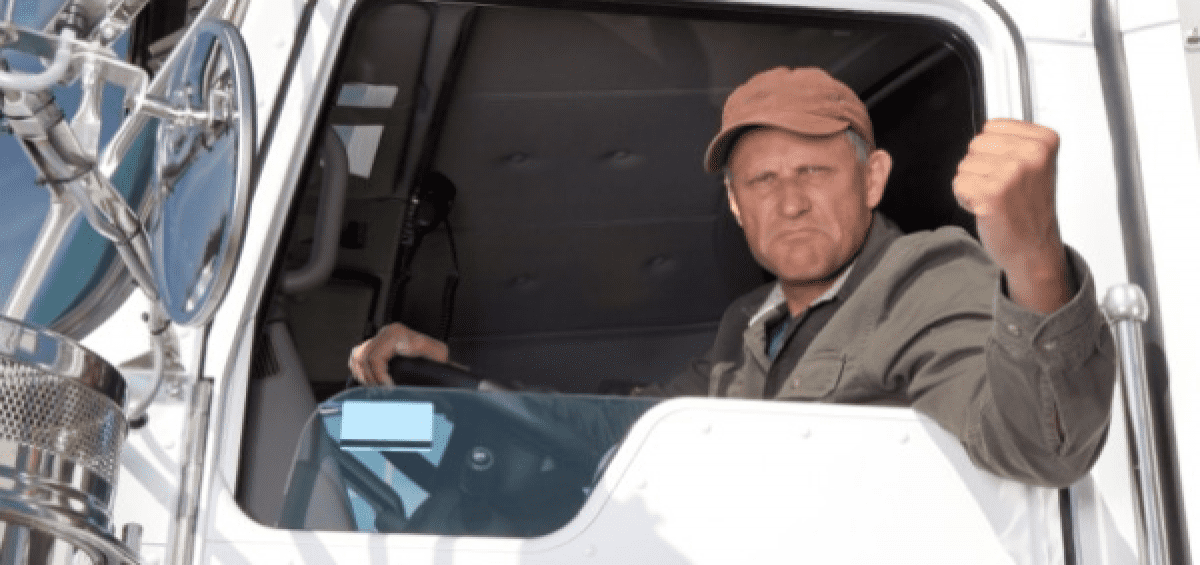 First things first. Let's talk about how much insurance you need to legally operate a commercial truck on the highway.
These requirements are set and published by the Federal Motor Carrier Safety Administration (FMCSA) in the United States. You can view them right here on the official FMCSA website.
All truckers need to be covered by public liability insurance. This type of insurance covers bodily injury, property damage, and environmental restoration. Specifically, this coverage pays the cost of damages to other people and other people's property.
Your insurance is supposed to cover the full extent of the damage of any accident for which you are at fault. In a commercial truck, that can be a lot of damage—more than you would likely be liable for if you were driving a smaller vehicle.
Public Liability Insurance Requirements
The minimum coverage you need depends on the type of freight that you will be hauling:
Non-hazardous freight moved in a truck which weighs under 10,001 pounds: $300,000.
Freight moved in a truck which weighs 10,001 pounds or more: $750,000-$5,000,000. The minimum depends on the type of freight. For oil, it is $1,000,000. For other hazardous materials, it is $5,000,000.
While these are the legal minimum requirements, if you are an OTR trucker, you may find that the company you are working for requires you to carry more insurance – even if just required for a short term. $1,000,000 is a typical requirement.
In some cases, you might also need to purchase other types of insurance. For example:
Cargo insurance of $5,000 per vehicle and $10,000 per occurrence for household goods carriers and freight forwarders.
Bobtail insurance. You need this if you drive an 18-wheeler without the trailer.
I will get into these and other types of trucking insurance shortly.
Given what commercial trucking insurance needs to cover, you can guess that it can be quite expensive. If you shop around however, you can find some good rates, and the longer you drive, the lower your rates will be.
Key Takeaway: To legally drive a commercial truck on the road, you need public liability insurance which meets minimum federal requirements as set forth by the FMCSA. This insurance provides coverage for injuries and damages to other people and property. Other types of coverage may also be necessary depending on what you are driving and what you are hauling.
What Are Some of the Top Commercial Truck Insurance Companies?


There are a ton of different commercial truck insurance carriers out there to look into. Some of the big names include:
1st Guard Corporation
Acadia Insurance
Ace Group
AIG
Arch Insurance Company
ARI
Amerisafe
Auto Owners Insurance Co
ATTICRRG
BBT Insurance Services
Berkshire Hathaway
Canal Insurance Company
Carolina Casualty Insurance Co
Chubb group of Insurance Cos
Century Insurance Group
CNA
Colony Insurance
Continental Western Group
Coverx Specialty
Eastern Atlantic Ins. Co
Essex Insurance Company
Fairmont Specialty
Farmers Truck Insurance Exchange
Fireman's Fund Insurance Co
Gateway Insurance Company
Grange Insurance
Great American Insurance Group
Great West Casualty CO
Hallmark Insurance Company
Hanover Insurance Group
Harco
The Hartford
Hudson Insurance Group
Infinity
Insurance House
Interstate Insurance Management
Johnson and Johnson
Lancer Insurance Company
Lexington Insurance
Maxum
Markel Insurance
Mercury Insurance Group
National American Ins Co
National Indemnity
National Interstate Insurance Co
Nat'l Truck Underwriting Mgrs.
Northland Insurance
Ohio Casualty
One Beacon
OOIDA
PMA Insurance
Progressive
QBE
Republic Group
RLI
Sagamore Insurance Co
Seneca
Scottsdale Insurance Co
Sentry Insurance
Star Insurance Company
State National Insurance Co
Stratford Insurance Company
Sutter Insurance Company
Swett and Crawford
The Hartford
Tower Ins. Co. of New York
TransProtection Service Co
Transguard
Travelers
U.S. Specialty Insurance Co
Western World
Wilshire Insurance Company
Zurich
Key Takeaway: While it may seem overwhelming to have so many companies to search through, the good news is that you will find great deals with a lot of these carriers. You just need to be willing to shop around.
Understanding The Different Types of Commercial Truck Insurance

We have already talked about primary public liability insurance. Now I want to discuss a few other types of commercial truck insurance you might need.
General Liability (GL) Insurance
This is one of the most important owner-operator insurance requirements. Basically, there are a lot of things that can go wrong which have nothing to do with accidents on the road. GL insurance gives you coverage for these situations.
For example, what if a trucker makes the wrong delivery? What if a visitor to your office trips over your doorstep and breaks his arm? What if one of your drivers gets into a fight at a truck stop? All of these situations can cost you money.
Most GL insurance policies have limits of $1,000,000 per occurrence, but you can find cheaper policies with $300,000 limits. Pricier policies are available as well.
Key Takeaway: For owner-operators, GL insurance is a must. It covers a wide span of costly damages and injuries which have nothing to do with road accidents.
Physical Damage Insurance
This is coverage to pay for repairs or replacement in case your truck gets wrecked. Remember, this isn't offered as part of your public liability protection. That covers other vehicles involved in your crash, but not yours.
There are two different types of physical damage insurance you can buy:
Collision: If your truck collides with another vehicle or with an object, collision damage will cover costs.
Comprehensive: If your truck is vandalized, burned, or stolen, comprehensive protection has you covered.
You can assume in most cases that the monthly cost of this insurance will be around $2-3 x each thousand it is worth. So if your vehicle is worth $50,000, that would be 50×2 = $100 at the lower end.
Key Takeaway: Physical damage insurance pays for damages to your truck.
Motor Truck Cargo Insurance
I mentioned this briefly earlier. In commercial trucking, you may be hauling goods which have significant value. To protect those goods should they be damaged in a wreck, vandalized or stolen, you need to purchase motor truck cargo insurance. Sometimes this coverage may even pay for items which you lose.
Of course, the items which are damaged, destroyed, stolen, or lost will cannot actually be replaced, but you can use the money you are paid through your policy to reimburse your customers. The limits for motor truck cargo policies usually range between $10,000 and $100,000. You can find policies with limits which exceed $100,000 as well.
If you are purchasing motor truck cargo insurance, make sure that:
The particular types of items you want to cover are going to be covered. Some products are easy to cover, but with others, you may need to do some calling around. A lot of companies refuse to cover items like jewelry, liquor or tobacco. The reason is that these are objects which tend to attract thieves, so they are seen as a liability.
If you sometimes haul products outside your usual line, the insurance company will be willing to work with you to cover them.
You are getting the amount of coverage you need. If you insure more than the value you are hauling, you will waste money, but if you under-insure, you may end up losing a lot of money should something go wrong.
Your policy will transfer to another truck if necessary.
The policy will cover debris removal if your cargo winds up scattered on the road following a crash.
You also should find out whether there are other types of damage covered by the policy. What happens if there is a water leak in the roof of your truck which gets your goods wet, ruining them? And what if you are hauling refrigerated merchandise, but the equipment malfunctions and the food spoils? Will the policy pay, or will you be stuck eating the loss?
Key Takeaway: Motor truck cargo insurance covers the cost of damages to your actual freight. You can use this to reimburse customers.
This is another type of commercial truck insurance which I mentioned earlier. Say you have dropped off your cargo and detached your trailer. You are now driving the truck on its own, known as "deadheading." Suppose you get into an accident, injuring another person or damaging someone else's property. A regular policy won't cover this, but bobtail insurance will.
You can get a bobtail insurance policy with a limit of $1,000,000 for anywhere from around $35-$60 per month.
Key Takeaway: Bobtail insurance keeps you covered while you are deadheading.
Non-Trucking Liability Insurance
This type of insurance coverage is regularly mixed up with bobtail insurance, but it is something entirely different. It covers you in case of damage or injury to another party while you are driving the truck for reasons not involving hauling freight.
You might wonder why you need this, but think about it. There are a lot of situations where you might be driving the truck without the goal of getting cargo to a destination. What if you need to take it to the wash? What if you need to take it to a repair shop? Non-trucking liability insurance will cover you should something go wrong along the way.
Key Takeaway: Non-trucking liability insurance covers you while you are driving your truck for non-delivery-related reasons.
This type of insurance covers you during the course of a trailer interchange agreement. This is a formal contract where you agree to take a trailer you do not own from another truck and deliver the goods.
If during the course of the delivery the other company's trailer is damaged, you would be liable for that damage if you did not have trailer interchange insurance. If you do however, the policy will pay out. Types of damage covered include loading and unloading damage, collision damage, as well as damage from fire, vandalism, or theft.
Trailer interchange insurance can range widely in cost, depending on a variety of factors. It could be as cheap as $100 a year, or as expensive as $150 a year. Limits usually range from $20,000-$30,000, and there is typically a deductible of around $1,000.
Key Takeaway: Trailer interchange insurance covers damages to a trailer you don't own if you borrow it to make a delivery. It only applies if there is a formal contract in place.
Non-Owned Trailer Physical Damage Coverage
In a lot of cases, if you agree to take a load to its final destination for another trucking company, you may have no formal written agreement. In this case, you cannot qualify for trailer interchange insurance as described previously. Instead, what you end up getting is non-owned trailer physical damage coverage.
These types of coverage are very similar. These are the two key distinctions:
Trailer interchange insurance requires a written contract. Non-owned trailer physical damage coverage does not.
With a non-owned trailer coverage policy, you are only covered if the trailer is attached to a covered truck. If the two are detached at any point and the trailer is damaged, the policy will not pay out. This is not the case with trailer interchange insurance, which will cover you either way. So the non-owned trailer coverage policy is the less comprehensive of the two.
Key Takeaway: Non-owned trailer physical damage coverage is almost just like trailer interchange insurance, but it is less comprehensive, and you can get it even when there is no formal contract.
Medical Payments Insurance
While public liability insurance covers medical payments in situations where other people are injured, it does not cover you or your employees or passengers. For that, you need medical payments insurance.
If you get medical payments insurance, and you, an employee, or a passenger is injured in a collision, the policy will pay out. Accidental death is covered as well.
Do you need this coverage? Maybe, maybe not. It depends on the other types of insurance you have (workers' comp, personal health insurance, etc.), and whether those types of insurance are adequate for your needs or leave gaps. If you regularly take on passengers, you probably should get medical payments insurance.
Key Takeaway: Medical payments insurance covers injuries to yourself, your employees, or passengers in your trucks.
Uninsured Motorist Coverage
In theory, if another vehicle hits yours and that person is at fault, his or her insurance carrier is supposed to pay for the damages. But sometimes the other vehicle's driver does not carry insurance, in which case there is nobody to pick up the bill—unless you purchase uninsured motorist coverage.
In some states like Maryland and New York, you legally have to purchase uninsured motorist coverage to drive. In others, it is optional, but you should probably get it anyway since there are a lot of uninsured and underinsured drivers on the roads.
Key Takeaway: If your truck is hit by an uninsured or underinsured driver, an uninsured motorist coverage policy will pay for damages.
Workers' Compensation
If you are an owner-operator, you need to purchase workers' compensation. With this type of insurance, you are covered if your employee is injured during the course of business. It is a legal mandate, and if you do not purchase it, you will have two problems on your hands. First of all, you will be liable for the full cost of any injuries. Secondly, you will probably owe penalties to the state.
Workers' compensation is not cheap. In fact, in some states (like California) it is absurdly expensive. You could find yourself paying more than $600 a month in workers' compensation premiums for each of your drivers. Over the course of a year, that can really add up.
Of course, if you skip out on workers' compensation and one of your employees is severely injured, it could wipe out your business. So it is worth it to bite the bullet and pay the high premiums to stay safe and compliant.
Key Takeaway: Owner-operators must purchase workers' compensation coverage for employees. It can be very pricey, so call around for a variety of quotes before you select a company.
As a trucker, you need to get this type of insurance if you are an independent contractor as opposed to an employee. If you get a 1099, you are a contractor. This means you do not qualify for coverage under workers' compensation. Should you be injured on the job, workers' compensation will do nothing to cover you. Owner-operators also need occupational accident insurance since they likewise are not covered through workers' compensation.
Occupational accident coverage works very much like workers' compensation. If you are injured while trucking, it will help cover the cost of your medical expenses. If you are disabled by your injury, it will also pay out a stipend which you can use to cover expenses over the short or long term as needed. Accidental death coverage is provided as well.
Like workers' compensation, occupational accident coverage can be very expensive, so you should shop around quite a bit before you settle on a policy.
Key Takeaway: Occupational accident coverage is like workers' compensation for independent contractors and owner-operators.
Contingent Liability Insurance
It is common for companies to misclassify employees as independent contractors. Sometimes this is done for nefarious reasons—to deny employees the benefits they deserve. Quite often, though, it is a simple honest mistake.
If as an owner-operator you do make the mistake of misclassifying an employee as an independent contractor and then that contractor gets injured during work, he or she may sue you. The reason is that the employee should have been receiving workers' compensation, but never received that benefit due to the misclassification.
If that happens, contingent liability insurance will help to cover you. Note that if you are careful about classifying your employees and you provide adequate levels of coverage, you should be able to avoid lawsuits and the need for contingent liability insurance.
Key Takeaway: If you fail to adequately cover an employee through workers' compensation, you may need contingent liability insurance.
Commercial Truck Umbrella Coverage
While you will probably have quite a few different types of insurance as discussed above, there are bound to be gaps in your coverage. In some cases, you may also have policy limits which are insufficient to cover damages.
Umbrella coverage, also known as "excess liability insurance," can help you to bridge these gaps and inadequacies. If you end up getting sued for more than your policies will pay, that money has to come form somewhere. If you do not have umbrella coverage, it is likely that your assets will be liquidated to pay out the rest of the judgment. But if you have umbrella coverage, then your excess liability insurance may be enough to save your assets and pay the rest of the amount.
You can buy umbrella insurance in units of $1,000,000. Policies can get to be quite large, totalling as much as $50,000,000. Policies cost around $2500 annually at the lower end. As you might expect, policies with higher limits can be quite hefty in terms of premiums.
You might wonder if you really need this kind of coverage as an owner-operator. I am here to tell you that you do. It is not at all uncommon for a freight company to be sued to the tune of millions of dollars. In cases where such judgments are awarded, umbrella coverage can mean the difference between staying in business or going bankrupt.
Key Takeaway: Even with all the types of insurance coverage discussed above, it is common for lawsuits to go way over the combined policy limits. Umbrella insurance can pay out in these situations, protecting your valuable assets.
Commercial Truck Insurance for Specialized Jobs
The types of truck insurance which are listed above are all very general. They apply to pretty much everyone, and are important regardless of the specific industry you are in.
But there are some niche jobs which require specialized insurance in addition to the types of coverage listed previously. Here are a few examples.
Livestock Hauling
Let's say you are in charge of transporting livestock. Livestock is not like other cargo. All kinds of things can go wrong which you would never need to worry about with other freight. Animals can be killed or maimed. The top deck could collapse. They could come down with an infection. In an accident, the animals could escape. This could lead to secondary accidents.
This is why there is livestock coverage you can buy, including broad and limited policies to protect you if animals are maimed or killed. You can also purchase insurance which provides coverage after transit, so that the livestock is still protected once it has been unloaded. Removing dead animals is expensive as well, so carcass removal insurance is also good to buy.
Livestock insurance policies for truckers usually cost between $6,000-$13,000 per year. Exactly how much depends on the nature of your trailer, the types of animals you are hauling, your deductible, and more.
Another special case is when you are hauling refrigerated goods. Once again, this is a situation where there are potential liabilities which are specific to your job. If your reefer unit suffers a mechanical failure during transit, all of your food could spoil.
Another issue involves shippers who don't see a problem sending out food which is on the verge of expiration. If you get to your final destination and the receiving party discovers the food has spoiled, you could end up liable for it.
Refrigerated truck insurance usually includes standard liability coverage plus some extra reefer coverage. The reefer coverage will (usually) pay out if the food spoils because of either damage to the reefer from a collision or mechanical failure. Some policies may also protect you in situations where the food simply expires.
Note that there are a few types of products which are often excluded from reefer policies. These include frozen food, meat products, seafood, pharmaceuticals and tobacco. Read through the list of exclusions to make sure that you are not buying a policy which fails to cover your cargo.
Steel Hauling
If you haul steel, you will need the standard types of insurance that I have already gone over, but you may need some additional insurance as well which is relevant to your job.
Steel haulers use specialized equipment to secure freight. This equipment can be very expensive, and if it is damaged, you could be out quite a lot of money. There is insurance you can buy to protect it however, known as "ramp, chain, tarp, and binder coverage." Debris removal coverage is also a smart purchase if you are a steel hauler.
Whether you are a steel hauler or you transport livestock, refrigerated goods, hazardous materials, agricultural produce, oil, logs, or anything else, always make sure to think about the unique situations which you may encounter and what that means as far as potential liabilities. This will ensure that you purchase all the types of insurance coverage which you need.
Tanker Trucks
If you drive a tanker truck, along with the basic types of coverage, you should consider adding cargo insurance, pollution liability, debris removal, and specified peril coverage. For the specified peril coverage, fire is a good option.
Key Takeaway: Depending on your specialized trucking operation, you may need additional types of coverage.

How Can You Shop for the Best Commercial Truck Insurance Rates?
By now I've used the phrase "shop around" enough times that you have probably gotten the message: commercial truck insurance is expensive. And you simply cannot afford to skimp on your policies.
So how can you find the best semi-truck insurance rates?
Here are some tips:
First, familiarize yourself with all the factors which can impact the cost of your insurance. While you cannot control all of these factors, you do have some control over some of them.
Call around and talk to a variety of companies. This is important. You cannot simply go with the first company you check into, even though you may feel daunted by the process of researching one carrier after the next. All the hard work will be worth it when it ends up saving you thousands of dollars every year in premiums.
Fill out a form to compare quotes from a number of carriers. If you want to shortcut through this process, look for forms you can fill out which allow you to input some basic information and get quotes back from a variety of commercial truck insurance companies.
Read the coverage details and exclusions carefully. Don't just compare each truck insurance quote. Make sure you also compare the policies themselves. Your goal is not to get the most inexpensive policy out there—it is to get the best value you can find. You do not want a policy which is not going to pay out what you need to cover your liability if something actually does go wrong. In the long run, that will end up being a lot more expensive than paying slightly higher premiums every month.
Be upfront about your record. When you talk to insurance agents about your needs, be clear, specific and thorough in discussing your driving history, radius, operation type and other factors that could influence your costs. You do not want to miss out on a break.
Operate safely going forward. As with your regular driver's insurance, being careful on the road pays off. If you have a long, safe record, you may qualify for discounts. If on the other hand you are clearly a high risk driver, you are going to pay more in premiums every month.
Read reviews to make sure the company really delivers. Slow payouts and other issues can become quite a hassle if you find yourself with a sizeable bill. Make sure you are dealing with a company that has a reputation for paying quickly and in full.
Key Takeaway: Finding affordable truck insurance isn't easy, but if you follow the tips above, you can find some great rates.
What Factors Which Influence Cost
Why might your quote from a commercial truck insurance company be higher or lower than another trucker's quote? Here are some factors which may raise or lower your truck insurance costs:
Operation type. Some freight businesses are riskier than others, and insurance companies know this. So depending on the type of shipping operation you are in (hazmat, steel hauling, logging, livestock, etc.), you might receive a higher or lower quote.
Types of coverage you need. You already have an idea for the cost ranges for different types of policies if you read through the previous sections. Some types of coverage are significantly more expensive than others. It is important however to make sure you buy everything you need. Hopefully you will never need to call on all of the policies you buy, but if you ever do, you will be thankful you didn't opt out of them.
Operation radius. The rates you are quoted will vary depending on whether you are making local, intermediate or long distance hauls.
Size of your fleet. The more units you have to insure, the more expensive your policies will be.
Experience. Whether you are an OTR trucker or an owner-operator, your experience level will have an impact on how much you pay. A new, inexperienced trucker is more likely to make costly mistakes than an experienced one with years on the road. Younger drivers are also perceived as riskier.
Penalties and infringements like MVR reports and OOS violations can make your insurance more expensive.
If you have a low credit score, that reflects negatively on you, and may result in your insurance rates being higher.
Have you had past collisions or other incidents which required you to use your insurance to pay for damages? This can result in a significant rate increase in the future.
If you have any history of reckless driving, alcoholism, wrecks, or so on, you may be seen as a high risk driver. This will jack up your rates.
Assuming you have specialized in a particular type of trucking, you probably cannot do much about how that will influence your rates. The same may be true for the size of your fleet, not to mention your past driving infractions. But you can work on improving your credit score, and you can also observe safe driving habits going forward. Over time, that may mean you will have access to lower rates.
Key Takeaway: A variety of factors influence the cost of commercial trucking insurance. Over time, if you prove to be a safe driver, your rates should decrease compared to what you start out with.
Commercial Truck Insurance FAQ
Q: I am an OTR truck driver. Do I need to buy all of these types of coverage, or just some of them?
A: Some of these types of insurance are really only relevant to owner-operators, so no, you do not need all of them. You are not going to need to worry about lawsuits from contractors for example.
Q: I am a new trucker. Will the cost of my truck liability insurance always be this high?
A: No, it should go down over time, assuming you drive carefully. With a clean driving record and no collisions, you will develop a track record as a safe driver. As you develop more experience, this will also reduce your perceived risk profile. That means that in the future, your insurance companies may be willing to offer you some breaks on rates. Work on keeping your credit score high (or raising it); this may also make a difference in the future.
Remember, now and again, it is a smart idea to shop around again just to see if there are any companies willing to offer you lower rates. There is no reason you ever need to settle. You may get the best deal on the market today, but a few years from now, there could be something else out there which is superior.
Q: What is "secondary" liability insurance?
A: This refers to any type of insurance which isn't primary liability insurance. Your primary liability insurance is your public liability insurance. This is the insurance that the FMCSA requires that you purchase in order to protect others and their property (along with the environment).
Secondary liability insurance includes other types of insurance like motor truck cargo insurance, bobtail insurance, and so on. Remember, even though these are not required by the FMCSA, they may be essential in order to protect yourself and others on the road.
Q: What do I need at an absolute minimum to get my authority and tags?
A: You need primary liability insurance to get your authority. For most truckers, this starts at $750,000. That being said, there are a lot of shippers which will not load you unless you have at least $1,000,000 in coverage.
As to your tags, once again, you just need primary liability insurance. If you are leasing to a motor carrier, you will go through them to get your policy, but if you are operating on your own, you will take out a policy in your own name.
Q: What is actual cash value vs. the stated limit, and which one matters when I am buying insurance?
A: That is a good question. Let's break it down.
With the actual cash value method of determining the value of a truck (or any other equipment), you provide a schedule of your equipment along with estimated values for each unit to the insurance carrier. But if an actual claim is made, the insurance claim adjustor checks the market values for those items on the date of their loss. After you pay the deductible, the cost of the damage or loss is paid in full. There are no limits. You receive whatever the equipment is worth.
With the stated amount method (also called stated limit), you provide an estimate of the value of the equipment at the start of the policy. Once again, if you make a claim, the adjustor looks at what the equipment is worth on the market.
The difference here is that the carrier will compare the amount you listed to the amount the adjustor finds, and then make a payout based on the lower of the two. So if you mistakenly overvalued the equipment, the adjustor's finding will stand. If on the other hand you undervalued the equipment, your mistake will cost you, because the carrier will use your stated amount, not the true market value.
Pay close attention to the method your carrier uses before you sign on a policy and provide your estimates. If you go with a stated amount policy, make sure your estimates are as accurate as possible.
Q: If my truck is parked, do I need to insure it against physical damage?
A: If you are in a tight spot financially, in theory you can drop the policy until you are ready to get the vehicle back on the road. That being said, your carrier probably will not appreciate it, and if you are getting a discount for multiple policies, you might lose it.
The other reason you may want to consider hanging onto the physical damage insurance is that it covers far more than just damage from collisions. Your vehicle could be vandalized while it is sitting around unused. It might also be damaged by hail or fire. If this should happen while your property damage coverage is lapsed, you will have to pay the full cost out of pocket.
Q: What are the key differences between workers' compensation and occupational accident insurance?
Workers' compensation provides coverage to employees. If you have employees working under you, purchasing this coverage for them is legally mandated in the majority of states. It is quite pricey, especially in California. Workers' comp benefits are fixed; they are stipulated by law and are the same for every employee.
Occupational accident insurance is designed to cover independent contractors. Owner-operators can also purchase it for themselves. It is not a legal mandate, and costs less than workers' compensation. The benefits are not fixed; they can vary from one motor carrier to the next. The same is true for the limits and the deductibles.
There are a few states—like Oklahoma and Texas—which do not require owner-operators to purchase workers' compensation. In these states, you have the option of covering everyone with occupational accident insurance, whether they are contractors or employees.
Q: If I am operating under my own authority, do I have to buy bobtail insurance?
A: If you own the truck and you have primary auto liability insurance under your name or that of your company, you do not need to buy bobtail insurance.
Q: How do I get roadside assistance and/or a tow?
A: This may be covered as part of a broader policy, or it may be an add-on you need to purchase separately. Needless to say, in a pinch it can save you a lot of time, money and hassle, so it is well worth it.
Q: Is there a way I can keep my hazmat truck insurance rates from getting ridiculously high?
A: Naturally it can be hard to find affordable insurance rates with hazmat hauling—it is one of the most dangerous types of hauling around. That being the case, the best thing you can do is follow the Federal Hazardous Materials Regulations with great care so that you do not end up with violations on your record. The most common one is the "Package not secure in vehicle" one—Violation 177.834A. The more violations you have, the higher your insurance rates are going to be.
Q: How can I be sure that I am getting the best rates?
A: There really is only one way to do this, and that is to do your homework and shop around to find out what rates are available. Otherwise, you may miss out on some outstanding opportunities.
Ready to Shop for Commercial Truck Insurance?
Now you know everything you need to in order to get started searching for the best commercial truck insurance rates. Sit down and do some planning. Think about the type of operation you are in and what types of policies you need to make sure that you are fully covered, and then fill out the form below. We'll search through dozens of carriers to bring you the most competitive quotes. Let's get you on the road with the coverage you need!