National Independent Truckers Insurance Company (NITIC) Guide
Truckers have to maintain some of the best insurance policies in the world. Truck driver insurance companies offer unique, custom policies to cover trucking outfits of all sizes – large and small.
National Independent Truckers Insurance Company specializes in the small and independent segment, where finding insurance can be very expensive.
About NITIC
National Independent Truckers Insurance Company RRG (risk retention group) was founded in 2001. Michael J Poller founded the company with the goal of offering affordable trucking insurance to trucking companies of all sizes.
Growing from a small insurance company, NITIC has since grown to offer insurance underwriting in 48 states. Offering only trucking and commercial insurance, the company's highly trained and experienced staff of licensed insurance agents stay on top of the industry's changing requirements to provide only the best insurance in the industry.
Based in Linden, New York, the company is situated near New York City and Port Newark, two of the largest trucking regions in the world.
Policy members are also owners of the company, and NITIC only insures commercial trucking individuals.
Policy Options Offered Through National Independent Truckers Insurance Company
All policies are offered with a free, initial quote. There are policy options to cover all trucking needs, and insurance certificate requests can also be made. The company's insurance options include:
Primary Liability
Mandated by state and federal agencies, primary liability has its pricing dependent on region and driving records. The history of the trucking operation will also be considered. The coverage protects truckers from damage and injury liability due to a truck accident.
Insurance limits vary and can range from $35,000 – $5 million.
The higher the limit, the higher the premiums will be.
Physical Damage
Physical damage coverage is offered for both a trailer and truck, and this coverage will provide:
If a truck's trailer is stolen, hail damages it, fire breaks out or a collision occurs to your owned vehicles, physical damage coverage will provide financial relief. Physical damage coverage will have its price based on the value of the equipment, and many loan providers that finance trucks will require physical damage coverage as the lien holder.
A percentage of the equipment's value is often paid when a claim is filed.
NITIC Motor Truck Cargo Liability Insurance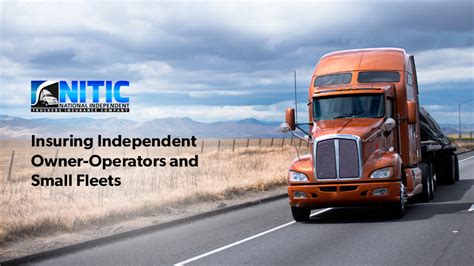 Cargo insurance will provide truckers with peace of mind in knowing that if they're in an accident, the cargo that they're hauling will be covered. Cargo insurance covers all of the items that the trucker is carrying.
As a carrier, the safety of the cargo is the responsibility of the hauler.
Policies may have exclusions which are not covered under a policy, but NITIC will work with truckers to ensure that the cargo they haul is covered within the scope of their policy. Cargo insurance policies are very specific to the cargo being hauled, and these policies can be endorsed or modified as needed.
National Independent Truckers Group has cargo limits between $5,000 to $250,000, with excess insurance also being offered.
NITIC has policy options that include but are not limited to the following cargo:
Dump truck operations
Automobile haulers
Refrigerated haulers
Dry freight haulers
Intrastate and interstate options are also available. There are currently no options for hazardous material haulers available under the motor truck cargo option. There is specific insurance offered for hazmat. NITIC is an A.M. Best Rated Company for their cargo insurance options.
Trailer Interchange
Trailer interchange insurance will provide coverage for non-owned trailers and equipment which is in the driver's possession. The insurance requires that the trailer or equipment be written into an interchange agreement.
Non-trucking Liability
Also known as bobtail coverage, non-trucking liability insurance is for owner-operators of an ICC regulated carrier that is permanently leased. Limited liability coverage is offered when the owner-operator is not with a loaded trailer.
A good example of this is when a truck is at the mechanic.
If damage occurs at the mechanic's shop, the damage will not be covered under the owner's primary liability insurance because the trucker was not hauling goods. This is where non-trucking liability insurance will provide the adequate insurance that is needed.
Short-term or temporary insurance is also offered, and this insurance is often when an owner-operator or smaller operation is purchasing a truck or taking another truck for repairs. Short-term insurance will cover the truck for 24 – 72 hours in length.
Pricing can be as low as $140 for a 24-hour policy, and policies can go for as long as five days with a premium of $540. The liability limit on all of the short-term policies is $60,000.
It's important to note that short-term insurance does not cover the hauling of any goods, so there will be no coverage offered if goods are being hauled. Underwriter approval may also be required if the person applying for the insurance has had more than 1 accident or ticket within the last 3 years.
Hazmat
National Independent Truckers Insurance Company does not cover hazmat material under their cargo insurance policy, but the insurer does offer this insurance through their hazmat truck insurance.
The company does not mention their policy limits for this type of insurance, but they do have insurance coverage for a variety of hazardous material, including:
NITIC is a leading, independent truckers insurance company that has a Better Business Bureau rating of A+ and offers instant online quotes for their insurance products.