Intermodal UIIA Insurance Requirements
Intermodal shipping uses multiple forms of transportation (trucks, rail, ships, etc.) to get shipments from one destination to another. A lot can happen when moving shipments long distances and using multiple types of transportation. Insurance can help provide the protection you need to move cargo safely by land, sea or air.
To understand intermodal insurance and how it works, you need to know what intermodal trucking is and the Uniform Intermodal Interchange and Facilities Access Agreement (UIIA).
What is Intermodal Trucking?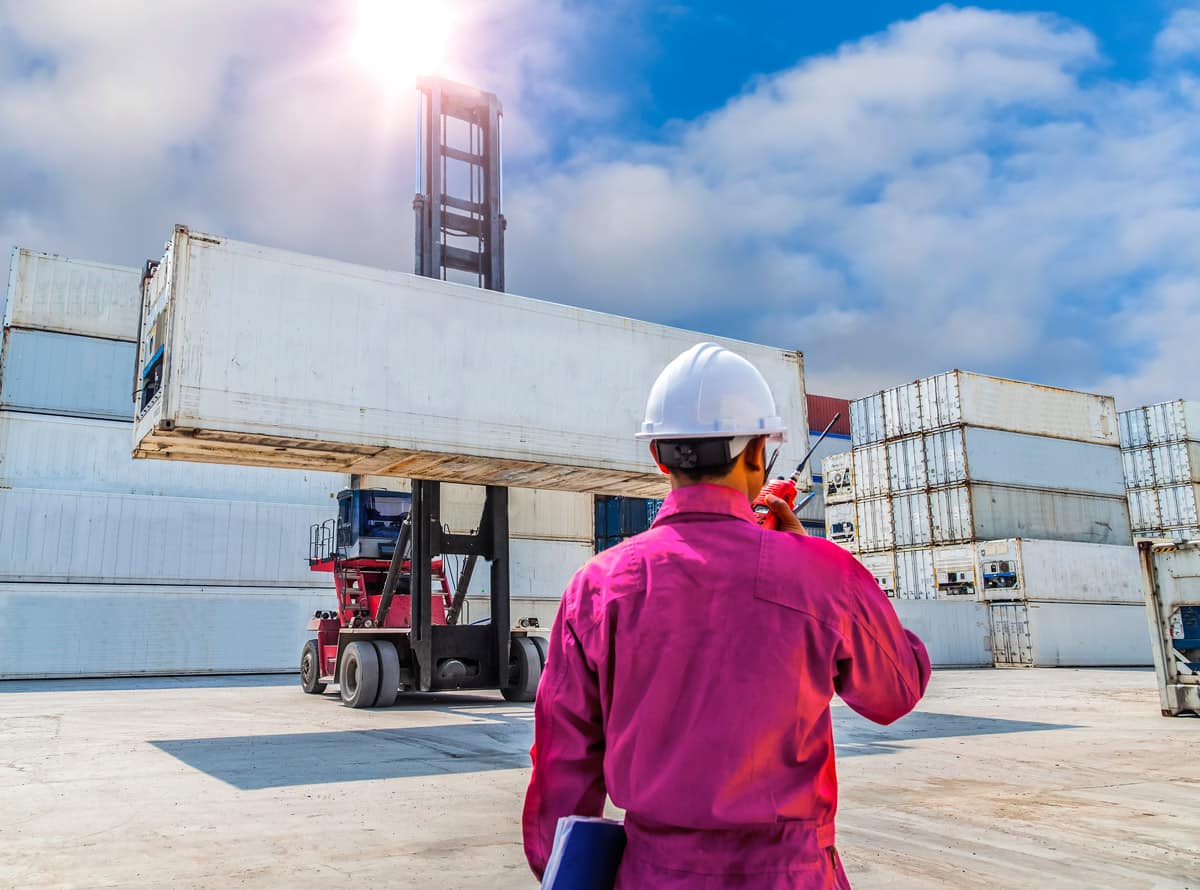 Intermodal truckers haul freight by truck to either their next form of transportation or their final destination. For example, drivers may transport shipping containers from a ship to a rail car.
Trucks play just one role in intermodal shipping, which uses a combination of cargo ships, planes, trains and trucks to move freight more efficiently. However, their role is an important one.
For example, let's say that a shipper wants to move freight from their manufacturing facility in California to their distribution center in Texas. They may find that it's cheaper to ship by rail. But how do they get their freight from the manufacturing facility to the train? Intermodal trucking.
Intermodal trucking is also responsible for getting that freight from the rail car to their distribution center's final destination.
Without intermodal trucking carriers, the intermodal shipping system couldn't exist.
What Is an Intermodal Carrier?
An intermodal carrier is a transportation company that deals with intermodal shipping. There are two main types of intermodal carriers:
Both types work closely with Class I railroads for their rail intermodal capacity. However, where they differ is their ownership of the 53′ containers they handle.
Bi-modal companies own the shipping containers
Non-asset companies use containers owned by the railroads or private owners
Some of the top carriers out there are intermodal, including Schneider, XPOLogistics, J.B. Hunt and Knight-Swift.
What Is UIIA Certification?
The Uniform Intermodal Interchange & Facilities Access Agreement, or UIIA, is an interchange contract that's administered by the IANA. The goal of UIIA is to ensure efficiency and productivity in intermodal shipping.
In order to participate in UIIA, motor carriers must pay a fee ($311 for IANA members and $355 for nonmembers) and provide the following information:
Company information (name, address, phone number and email)
USDOT/MC number
SCAC (Standard Carrier Alpha Code)
EIN or Tax ID
Insurance (must meet all requirements)
Once your account is active with the UIIA, you can start doing business with equipment providers on the UIIA's list.
Intermodal Insurance Requirements
UIIA requirements must be met to obtain a UIIA certificate. The requirements span over multiple areas, including:
General Liability
All transport companies must have general liability coverage with:
$1 million per occurrence/no limit
Unlike other forms of insurance, general liability cannot be part of a self-insured policy in whole or in part. Any Canadian Funds policies must have an equivalent coverage amount of $1 million.
Auto Liability
UIIA requires extensive auto liability coverage of:
$1 million, combined single limit
UIIA EPs that you do business with should be listed on the policy
You can self-insure, but if you do, it's crucial to contact the UIIA office and inquire about the current requirements for you. Additionally, the auto policy must be listed as one of the following:
"Any Auto"
"Scheduled and Hired"
"All Owned and Hired"
You cannot have an auto policy of another listing, such as "All Owned."
Note: You must have a hold harmless endorsement, and any one of the following will suffice: UIIE-1, CA23-17 and TE2317B.
Cargo insurance may be obtained alongside container insurance. Most UIIA EPs will require some form of cargo insurance to work with them. Requirements on limits will vary from one EP to the next, but most have a current limit requirement of $100,000.
Trailer interchange insurance is required for all equipment in the Motor Carrier's control or custody that is non-owned equipment. Coverage should include:
Fire
Theft
Comprehensive and collision
EPs have their own limit on trailer interchange insurance, ranging from $15,000 to $65,000. However, most EPs have a limit of $25,000. These figures can change at any time, so it's crucial to use the most recent figures under the UIIA.
Depending on the EP, you may be required to have:
Workers Compensation (statutory limits)
Employer's liability
Most EPs don't require workers' compensation, but if it is, you'll need it to meet UIIA requirements.
When working with an EP, they must be added as an additional insured on all required documents and policies.
If you have an umbrella insurance policy, it's crucial to list all of the policies covered.
What Happens if Insurance Isn't Renewed?
UIIA systems are designed to expire all insurance policies at 12:01 am on the day that the policy is set to expire. It's up to each Motor Carrier to have their insurance agent:
Update renewals
Push updates before the expiration date
Insurance agents are responsible for ensuring that policies remain active and do not expire. Otherwise, if you do not meet these requirements, you cannot work with certain providers.
Notification of Cancellation
If a Motor Carrier plans to cancel a policy, they must provide:
30-day advance notice
10-day notification for non-payment
Maintaining UIIA insurance requirements is the only way to use some of the equipment that EPs require. If you do not have insurance, you won't be able to work with these EPs until you meet all insurance requirements.
Working to Meet All Requirements
If you want to ensure that you meet all UIIA insurance requirements, it's important to work with an insurance agent who has experience in container hauling. Many agents do not have the experience to:
Know coverage requirements
Know endorsement requirements
Offer intermodal insurance packages
Working with a reputable and experienced agent is one of the best things anyone in the transportation industry can do if they want to meet all UIIA requirements. The right agent will ensure that you meet all EP limits and have adequate insurance to cover all liabilities.
Online quotes and comparisons make it easier to find the insurance you need to fulfill all requirements while staying within budget. The right insurance agent will answer all of your questions and help you maintain the insurance policy you need to continue hauling for EPs.
What can you expect to pay for your intermodal trucking insurance?
How Much Does Intermodal Trucking Insurance Cost?
Costs for an intermodal trucking insurance policy will vary depending on several factors. However, policies can cost up to $12,000 per year per power unit.
Bundling your coverage through a single insurance provider can help you save on premiums. Paying upfront or choosing a higher deductible can also reduce costs, but it's essential to make sure that you can still afford your deductible if you need to file a claim.
If you're going to haul intermodal freight, you must have the right insurance coverage. Meeting the UIIA requirements for insurance will ensure that you're protected when hauling cargo from ships, planes or rail.
Comparing plans is the best way to get the right coverage at the right price. Working with an experienced insurance agent will save you time while ensuring you all the coverage you need.