Progressive Commercial Truck Insurance Guide
Progressive is best known for their home and auto insurance policies, but the company also offers commercial truck insurance for owner operators and fleet owners. Today, Progressive is one of the top semi-truck insurance companies. They offer flexible coverage, free filings, multiple payment options, specialized claims services, support and discounts.
What Type of Truck Coverage is Available From Progressive?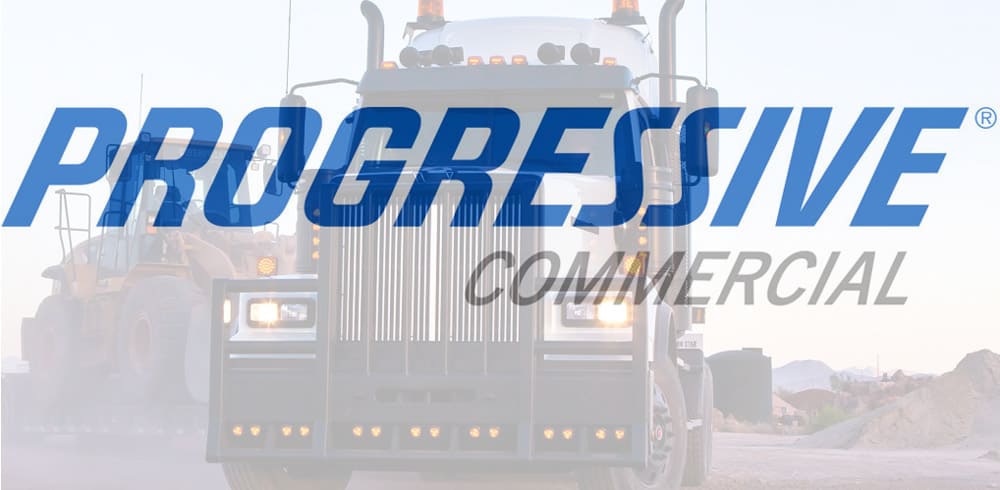 Progressive offers a wide range of coverage options for commercial trucks.
Progressive truck insurance is available in all states and covers many types of trucks, including:
Tow trucks
Tractors
Box trucks
Pickup trucks
Dump trucks
Common commercial trucks covered by Progressive include:
Step van
Agricultural
Cement mixer
Flatbed
Ice cream
Pump
Front loader
Garbage
Catering
Bucket
Tank
Street sweeper
Stake body
Bucket
Delivery van
Refrigerated truck
Progressive will cover most commercial vehicles regardless of which industry they operate in.
Independent Operator Insurance
Owner operators can purchase Progressive's Independent Operator Insurance to stay covered and protected.
If you lease a truck, your insurance coverage needs are determined by your lease agreement. The motor carrier typically provides Primary Liability coverage, which will cover damage to other property or people as well as injuries.
But in some cases, drivers leasing trucks need to purchase their own insurance, which should include:
Physical damage: Covers the cost of replacing or fixing your truck if in an accident or stolen.
Non-trucking liability: Provides protection when you're not under dispatch.
Motor truck cargo: Covers loss or damage to the load you're hauling.
Owner operators who operate under their own authority are responsible for having their own insurance. Progressive offers all of the coverage above plus:
Liability insurance: Covers the damage you cause to other people and property. Also includes Property Damage Cover and Bodily Injury Liability insurance.
Primary liability has a radius of 500 miles.
Motor Carrier Insurance
For-hire truckers can purchase Progressive's Motor Carrier Insurance.
You may have Primary Liability coverage through your motor carrier authority, but you may still need to purchase Non-Trucking Liability Insurance or "Contingent" coverage as well as Physical Damage.
Liability insurance is mandatory, so if your carrier doesn't provide it, you can purchase it through Progressive.
Progressive also offers optional coverage, including:
Medical payments
Uninsured motorists
Motor truck cargo insurance
Physical damage
Like the owner operator coverage, Progressive has a 500-mile radius of liability coverage.
Private Carrier Insurance
Private carriers haul their own goods in their own truck for their own company or for an employer. Progressive offers policies for truckers in all private carrier industries, from manufacturing to construction and excavation.
Private trucking insurance coverage includes:
Physical damage: Covers repairs to your truck if in an accident, whether caused by another vehicle or a tree branch.
Liability: Mandatory coverage that pays for damage you cause to other property or people.
Medical payments insurance: Covers medical bills for you and passengers in case of injury in an accident (only available in select states).
Progressive will also help ensure that you're covered properly. If you cross state lines, you may need state or federal truck insurance filings. The company will even take care of filing the paperwork on your behalf.
Customized Coverage
Along with standard policies, Progressive also offers customized truck coverage, including:
Rental reimbursement (with downtime): If your truck is in the repair shop, this coverage will provide you with a rental vehicle or help make payments on your truck until you're back on the road. This coverage only applies to certain types of businesses and your truck must meet certain requirements in order to qualify.
Motor truck general liability: Motor carriers and for-hire truckers need this coverage, which includes personal injury, advertising injury, bodily and property damage, products, medical payments and damage to premises you rent. Certain restrictions apply.
Motor truck cargo: Covers the commodity or freight being hauled. This policy provides coverage for your liability if the cargo is damaged or lost in transit.
Trailer interchange: Provides coverage for physical damage to trailers being pulled under a trailer interchange agreement.
Non-trucking liability (NTL): NTL provides you with coverage when you're off-duty and using your truck for things like grocery shopping, going to the movies or visiting friends. This policy does not provide coverage for when using your truck for business or hauling cargo.
Along with these coverage options, Progressive will also handle your filings for you. The company offers federal and state filings for commercial truck insurance customers.
Progressive also specializes in heavy truck claims, and has 100% in-house adjusters who will take care of the repairs and guide you through the process from start to finish. The company has an extensive network of pre-approved repair shops that give Progressive customers priority status.
If you're in need of specialized commercial service, Progressive can help with this as well. One of their local independent agents can help you find the right policy for your needs.
How Much Does Coverage Cost?
The cost of a policy will depend on a variety of factors. That's why Progressive offers a free commercial truck insurance quote to all potential customers.
Some factors that will affect the cost of your policy include:
Location
Business type
Driving history
Policy limits
Vehicle
Driving radius
Each of these factors will impact policies in a number of different ways. For example, a regional driver's policy will cost more than a local driver's policy. The regional driver will travel greater distances, which will increase the risk of an accident.
How to Save on Premiums
There are a few ways truckers can get a discount on their insurance premiums. These schemes can save policyholders up to 15% on the cost of their coverage.
A few of these discounts include:
CDL Discount: CDL holders can save 2% on their premiums.
Business Experience Discount: Policyholders can save up to 4% if they have been in business for at least three years.
Paid In Full Discount: You can save up to 15% on your policy if you pay for the entire policy at once.
Pay by EFT: Progressive also offers a discount if you pay for your policy through EFT (electronic funds transfer).