Hazmat Insurance For Truckers
More than 3.7 million tons of hazardous material are shipped by trucks in the U.S. each day. Hauling these materials requires special training and permitting because accidents can be catastrophic. But even with experience and training, accidents can and do happen. Hazmat truck insurance can help cover the cost of repairs, replacements, medical bills, cleanup and more.
Who Needs Hazmat Insurance?
Any commercial trucking operation that will be hauling hazardous materials will need hazmat truck insurance. Coverage must meet state and federal requirements.
What's Considered Hazardous Material?
The United States Department of Transportation regulates hazardous materials. There are nine classes of hazmat materials:
Explosives: Rocket motors, black powder, fireworks
Gas: Propane, chlorine, compressed oxygen
Flammable Liquid: Gasoline, paint, diesel fuel
Flammable Solid: Safety matches, sterno, calcium carbide, calcium dithionite
Oxidizing materials: Potassium bromate
Poisonous and infectious materials: Pesticides
Radioactive materials: Cobalt-60
Corrosives: Caustic soda
Misc. dangerous goods: Heated liquid asphalt
If you're hauling any of these materials, you must have the appropriate insurance coverage to operate legally. Failing to follow regulations can result in significant fines and penalties.
Hazmat violations often result in being put out of service. In severe cases, transporting hazardous materials while in violation of regulations can lead to jail time.
Commercial Hazmat Truck Insurance Requirements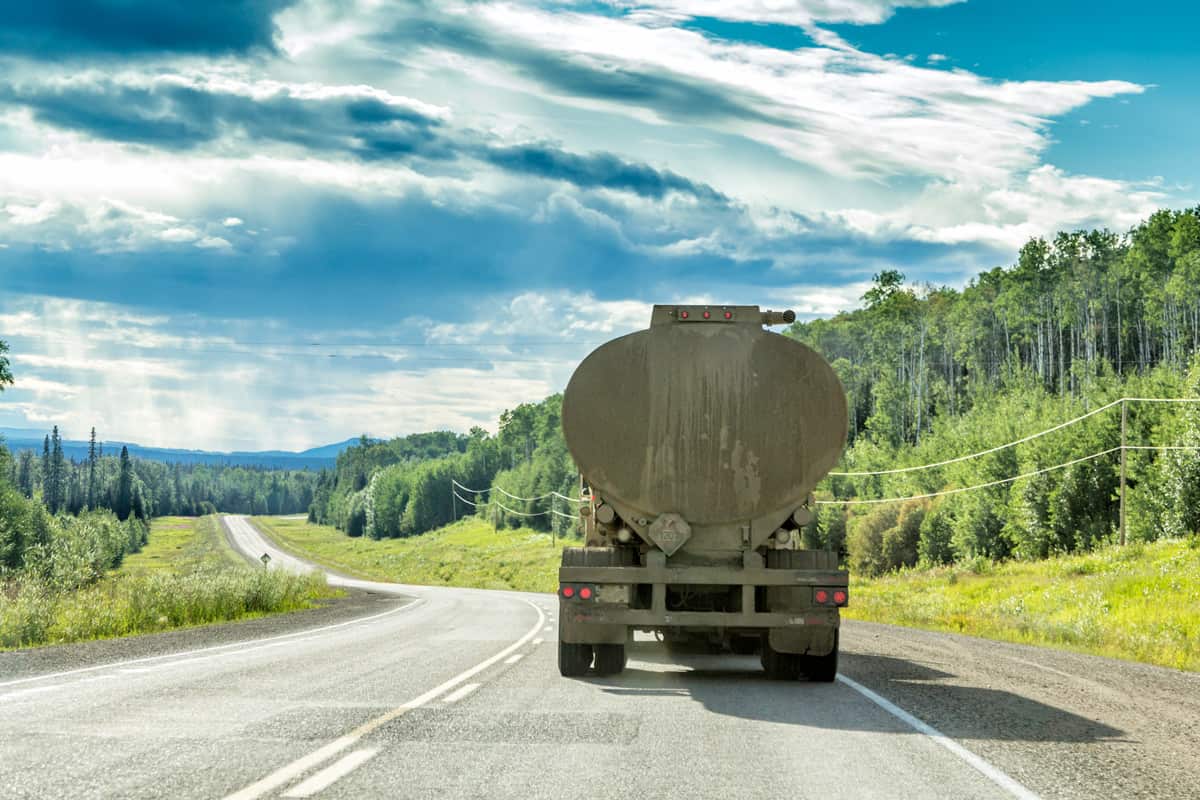 Truckers hauling hazardous materials are required to have between $1 and $5 million in hazmat insurance coverage. Additional coverage and limits may be necessary in some cases. Insurers will want to know if you are hauling any materials labeled extra hazardous.
It's best to work with an insurance company that specializes in hazmat truck insurance because they will understand the unique risks of hauling hazardous materials and coverages you will need.
Depending on what you're hauling, you may also need:
Hazmat general liability
Pollution liability
Wrongful delivery
Many hazmat policies include these coverages as part of their standard coverage.
Failure to comply with hazmat insurance requirements could lead to hefty penalties and even jail time in extreme situations. In addition, having hazmat violations on your record can also make it harder and more expensive to obtain insurance in the future.
Obtaining the appropriate coverage will not only ensure that you're following the rules, but also provide adequate protection if an accident does occur.
What Coverage is Offered by Hazmat Insurance Carriers?
Hazmat policies should provide the basic coverage you need to protect your rig and business.
While every insurance company has its own offerings, a typical hazmat insurance policy will include the following coverage:
Collision and Comprehensive
Protects trucks and hazmat tankers against fire, theft, upset, vandalism and other losses.
Pollution Liability
If you're in an accident, pollution liability will cover the cost of cleanup, including any damages caused by the discharge of pollutants loaded or unloaded from a covered rig.
Every hazmat insurance policy should have this coverage. The cost of cleanup can be astronomical if hazardous materials are discharged from the tanker or trailer.
Hazmat General Liability
Hazmat general liability covers liability for non-truck related claims, like the wrongful delivery of liquids. This type of coverage is typically required by contract.
Excess Liability
Hazmat-related accidents can be costly. Excess liability will provide additional coverage for claims that go beyond the primary policy's limits. Every insurer has its own limits, but $50 million is common.
Loading and Unloading
With loading and unloading insurance, your cargo is covered while being loaded or unloaded.
Medical Payments and PIP
When accidents cause injuries, medical payments and PIP (personal injury protection) will cover medical expenses to injured drivers and passengers in your vehicle regardless of who is at fault.
GAP Insurance
If you're in an accident that totals your truck or trailer, GAP coverage will help cover the difference between what's owed on your lease or loan and the actual cash value of your vehicle.
Downtime
If you experience a covered loss, downtime coverage can protect against lost income. In addition, with downtime coverage, you can continue making your truck payments and cover other bills if your vehicle is inoperable for an extended period.
Rental Reimbursement
If an accident renders your vehicle inoperable, rental reimbursement coverage will allow you to rent a replacement truck and trailer to continue working. Reimbursement will cover a large percentage of the cost.
Along with these coverages, some insurance companies can also help with:
DOT safety and compliance
Finding ways to reduce your SMS/CSA scores
Pre-employment screening reports (PSP) and MVR
Providing safety and educational resources to reduce the risk of accidents and claims
Hazmat Trucking Insurance Cost
The cost of hazmat trucking insurance will depend on the carrier, your location and what you're hauling. Because you're hauling dangerous materials and the risks of catastrophic injuries and damages are much higher, costs are higher than a typical commercial auto insurance policy.
While it's impossible to estimate your costs without knowing more details, policies generally run:
$12,000-$28,000+ annually
Most insurance carriers will allow you to make payments in installments. Keep in mind that the cost of your premiums will depend on many different factors and may be significantly higher or lower than the above estimate. Factors that will affect the cost of your coverage include:
Material type
The size of your fleet
Driving records
Whether you have regulation violations
Previous accidents
Regulation violation, a history of accidents and a poor driving record will skyrocket your premiums and make it harder to find an insurer who will accept you.
On the other hand, having an impeccable safety record can help save on costs. Insurers may also offer discounts for dash cam systems and other safety features.
Comparing quotes and coverages from multiple insurance companies is the best way to ensure you get the coverage you need at the right price.
If you're hauling hazardous materials, having the right coverage is crucial. Violating hazmat regulations will only make it harder and more costly to obtain insurance in the future. Having adequate coverage with high policy limits ensures that your policy can cover the cost of damages, repairs, cleanup and other losses.