Box Truck Insurance Guide: Coverage Options, Costs and More
Whether you're a for-hire driver or own a fleet of box trucks, you may be wondering what type of insurance you need and how much it costs. There are several factors that affect the price of premiums and many coverage options available.
In this guide, we'll cover your coverage options, costs and factors that may affect the cost of your policy.
What Is a Straight Truck?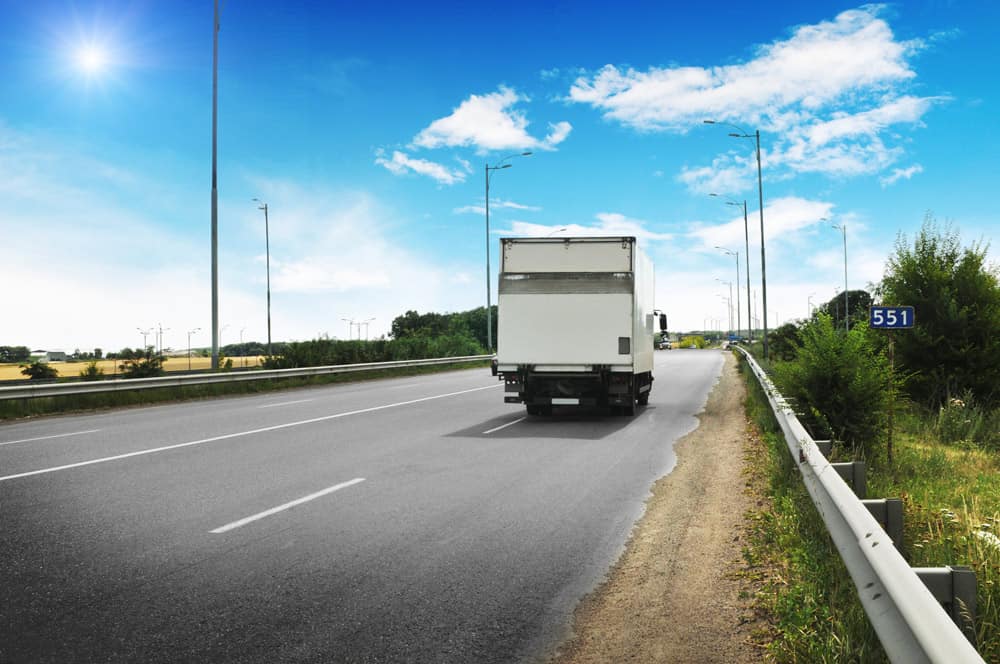 A straight truck is just another term for a box truck. While similar to a regular tractor truck, a box truck's tractor can't be removed. These trucks carry boxes instead of trailers, and these boxes are attached to the truck. The back of a straight truck slides open from top to bottom, much like a garage door.
Box trucks can hold around 33,000 pounds of weight, but this can vary from one truck to the next.
When most people think of straight trucks, they think of U-Hauls. While this type of truck is commonly used by moving services, straight trucks can be used for a variety of other purposes as well. They're commonly used for less-than-truckload (LTL) freight.
There are several types of box trucks. The most common types include:
Moving trucks
Reefer trucks
Sleepers
Tilt cab
Cargo cutaway
Ice box
Because straight trucks are generally used for commercial purpose, drivers or vehicle owners must have box truck insurance to cover the cost of accident damages and injuries.
Who Needs Straight Truck Insurance Coverage?
If you drive a box truck for commercial purposes, you need straight truck insurance. The most common types of businesses that require this coverage include:
Couriers
Movers
Retail operators
Expeditors
LTL
What Does Box Truck Insurance Cover?
Box truck insurance can cover a wide range of scenarios. A basic policy will cover liability and property damage. Other coverages are also available to provide more protection.
Basic Box Truck Insurance
A standard straight truck insurance policy will cover the following:
Bodily Liability: Covers the cost of injuries associated with an accident caused by you or an employee.
Property Damage Liability: Covers the cost of damages to another person's property in an accident caused by you or an employee. This can include damage to other vehicles, buildings, etc.
If you're an interstate trucker driving a box truck, then your insurance will need to meet the Federal Motor Carrier Safety Administration's requirements, which include:
Vehicles under 10,001 lbs. (non-hazardous materials): $300,000 minimum limit
Vehicles over 10,001 lbs. (non-hazardous materials): $750,000 minimum limit
Oil hauled by private and for-hire carriers: $1 million minimum limit
Other hazardous materials hauled by private and for-hire carriers: $5 million minimum limit
Keep in mind that these are the federally required minimums. Some brokers may require even more coverage.
Additional Coverage Options
In addition to the basic insurance, additional coverage options are available to provide more protection.
While liability is important (and typically required by law), it doesn't cover all potential expenses you may incur in an accident.
Additional coverage options include:
Collision and comprehensive: Damage liability in a standard policy only covers other people's property – not your own. Collision and comprehensive will help pay for repairs or replacement of your truck if it's damaged in an accident or some other covered way, such as theft, fire or vandalism.
Cargo: If your cargo is damaged during transport, cargo insurance will help cover these costs.
Non-trucking liability: If you're driving a box truck on a for-hire basis, non-trucking liability will cover liability costs if you're in an accident while not on dispatch.
Although these coverages are considered optional (as in they aren't included in a standard policy), they really are essential.
How Much Does Box Truck Insurance Cost?
Cost is always a big concern when buying any type of commercial vehicle insurance, and straight truck insurance is no exception.
While the cost of insurance will vary from one location and situation to the next, you can expect to spend:
$3,000-$5,000 per year on a policy if you have a clean driving record and an established business. New businesses will pay a little more.
Up to $40,000 for a business with a history of accidents and tickets.
Keep in mind that these are only estimates. The actual cost of your policy may be higher or lower, depending on several factors.
Factors Affecting Your Costs
There are several factors that will affect the cost of your box truck insurance premiums. These factors include:
#1 – Your Location
The location of your business and your area of operation will have a big impact on your insurance costs.
Box trucks that operate and are headquartered in rural areas can expect to pay lower premiums than businesses in busy metro areas.
Interstate operation will also impact your rate. Because you or your employees will be driving longer distances, the risk of an accident will be higher. Minimum coverage limits will also need to meet federal regulations, so this will also increase your premiums because you need more coverage.
#2 – How Long You've Been in Operation
An established business with a clear, clean record will likely have lower rates than a new business with no history or data.
#3 – Your Trucks
The age and condition of your truck or fleet will also impact your insurance costs. The higher the value of your vehicles, the higher the cost of your premiums. High-value vehicles cost more to repair, and these higher costs are reflected in the insurance premium.
#4 – Driving History
If you or your employees have a history of claims, accidents and tickets, you can expect to pay more for your insurance.
History is often a good indicator of the future. If you or your drivers don't put safety first, the insurance company will view your business as a high risk. High risk comes at a cost.
#5 – Your Loads
What types of loads and cargo do you haul in your straight truck? Some types of cargo – especially hazardous materials or high-value items – are riskier to transport.
If you specialize in hauling high-risk loads, you may have to pay more for your insurance.
#6 – Your Policy Structure
The way your policy is structured will also impact the cost of your insurance. Bundling your coverages together can save you money. Insurers often offer discounts for buying more than one policy with them. Purchasing individual insurance policies will typically cost more.
Delivery Truck Insurance Quotes
The best way to estimate the cost your box truck insurance is to gather and compare quotes. Weigh the pros and cons of each policy, and make sure that you understand what's covered and what isn't.
Comparing quotes and coverage options will help you find the best coverage at the best price.