New Jersey Commercial Truck Insurance Guide
Understanding NJ Truck Insurance Requirements
New Jersey commercial truck insurance is essential for businesses that own and operate trucks for business purposes. It provides coverage for potential risks and liabilities associated with the transportation of goods and passengers. This section will discuss the key aspects of commercial truck insurance in New Jersey, who needs it, and the specific requirements.
In New Jersey, businesses using trucks for commercial purposes must have commercial truck insurance.
Some examples of entities that need trucking insurance in NJ include:
Those who transport goods or people for money
Those who conduct a service using a vehicle
Companies operating in the trucking industry must also be aware of the different forms and filings associated with commercial truck insurance, such as Form E and Form H. Obtaining quotes and assistance from licensed New Jersey insurance representatives can help you navigate the process of getting commercial truck insurance.
Commercial auto policies are vital for various types of businesses. For example, for-hire livery such as taxis, limousines, and non-emergency medical transportation (NEMT) vehicles require commercial auto coverage. Some ridesharing vehicles may also need commercial insurance. For heavy trucks, different coverage levels and requirements may apply.
It is essential to work with reputable commercial truck insurance providers in the state to ensure proper coverage and compliance with New Jersey regulations. There are several top-rated insurance companies with experience in providing insurance for various trucking businesses, enabling you to select the best coverage for your specific needs.
By understanding the NJ commercial truck insurance requirements, you can protect your business from potential risks and ensure compliance with state regulations.
Coverage Options & Limits in New Jersey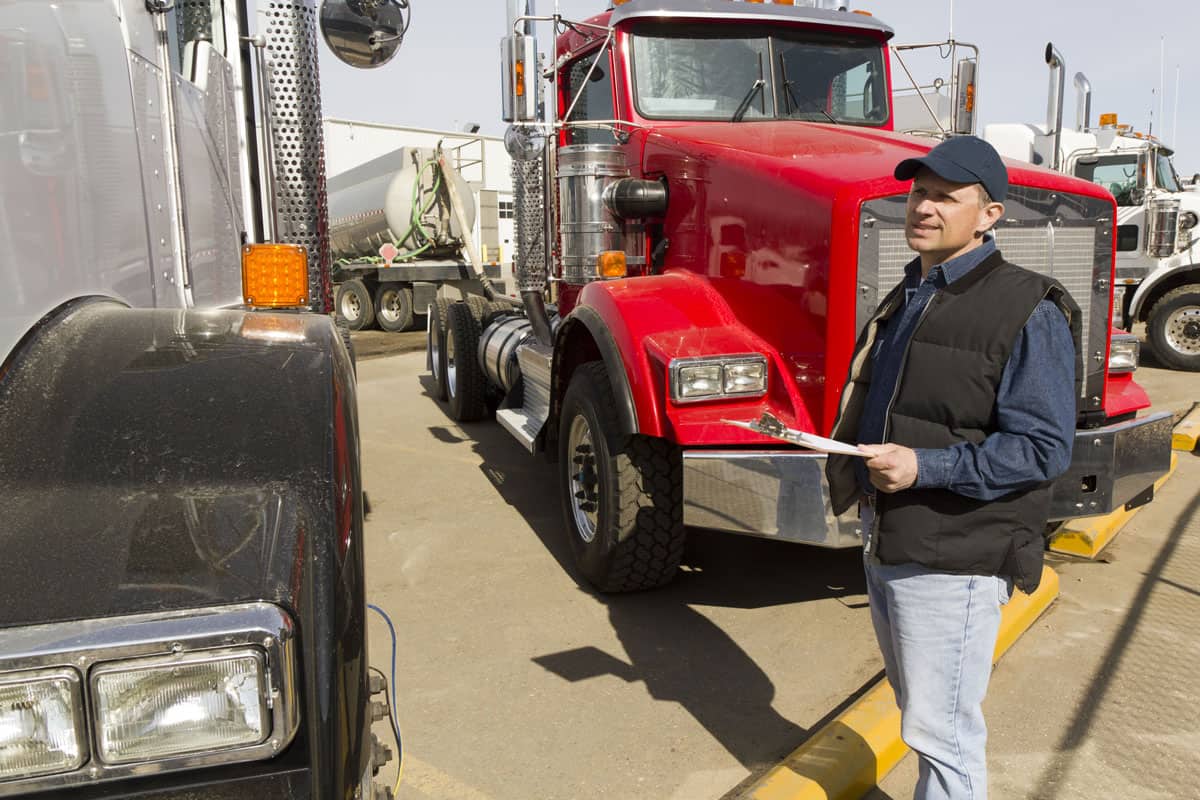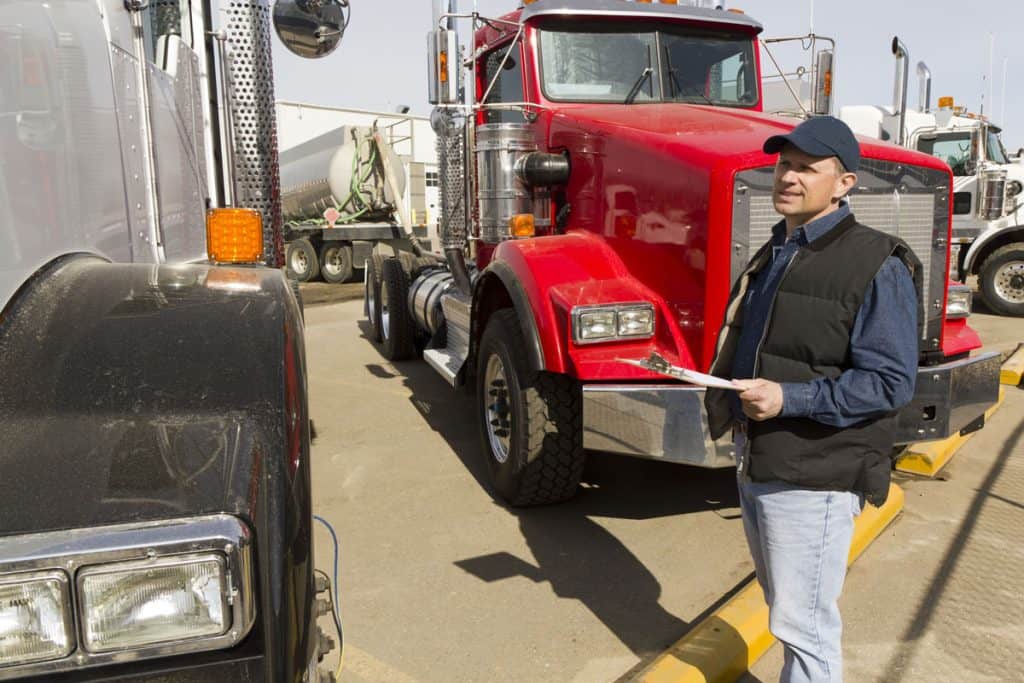 When it comes to commercial truck insurance in New Jersey, there are several coverage options available for businesses and individuals involved in the trucking industry. It's important to understand the mandatory minimum liability limits, opportunities for higher coverage limits, and potential discounts to ensure that your trucks and operations are adequately insured.
In New Jersey, state law requires that all commercial truck policies have a minimum liability limit of $15,000 per person, $30,000 per accident for bodily injury, and $5,000 for property damage (15/30/5). This is known as residual bodily injury and property damage (RBI-PD) coverage, which serves to protect the insured party in situations where the third-party's personal injury protection (PIP) coverage is insufficient.
Hauling specific types of cargo can impact the required liability limits. For instance, if the hauled freight is identified as hazardous, these limits could increase to a range of $300,000 to $5,000,000. Moreover, transporting commodities such as oil typically demands coverage limits of up to $1,000,000.
With higher limits, policyholders have the option to expand their coverage further according to their specific needs and risk exposures. Since trucking businesses vary in their operations, it's crucial to evaluate the unique requirements of each business when considering additional coverage.
Coverage options in New Jersey typically include liability coverage, cargo coverage, and physical damage coverage. Liability coverage takes care of bodily injury and property damage caused by the insured truck, while cargo coverage addresses damage to or loss of cargo being transported. Physical damage coverage encompasses damage to the insured vehicle itself due to any accidents, theft, or extreme weather conditions.
In terms of discounts, trucking businesses may have opportunities to lower their premiums by implementing safety measures, such as installing dashboard cameras, maintaining an accident-free record, or completing specialized driver training programs. It's important for businesses to explore these discount options and discuss them with their insurance provider.
By understanding the various coverage options, limits, and potential discounts available in New Jersey commercial truck insurance, businesses and individuals operating in the trucking industry can secure appropriate protections while potentially reducing their overall insurance costs.
Important NJ Truck Insurance Filings
In New Jersey, insurance filings may be required to ensure compliance with both state and federal regulations. It is essential for trucking businesses to understand these filings and the specific requirements they fulfill.
Insurance filings serve as proof of financial responsibility, indicating that a motor carrier possesses the adequate liability insurance required by law. Some key filings include Form E, the MCS-90 endorsement, and USDOT requirements. Each type of insurance filing serves a different purpose in protecting motor carriers, their customers, and the public.
Form E is a mandatory state filing for commercial truck insurance. It certifies that a motor carrier maintains sufficient liability coverage under state regulations. In New Jersey, the minimum liability insurance requirement is set based on various factors such as cargo type, vehicle weight, and location of operation. Failure to provide the Form E can result in fines and potential loss of operating authority.
MCS-90 endorsement is a federal requirement for interstate carriers displaying proof of financial responsibility. It is mandated by the Federal Motor Carrier Safety Administration (FMCSA) and ensures a carrier has adequate insurance to cover claims arising from environmental and property damages. The MCS-90 endorsement gets attached to a commercial truck policy to guarantee that the policy meets or exceeds the minimum required coverage.
In addition to these filings, trucking companies must be aware of their USDOT requirements. Commercial vehicles engaged in interstate commerce need a USDOT number, which serves as a unique identifier for the company. It helps in monitoring compliance with safety and regulatory standards. A trucking company must maintain its USDOT number and ensure proper documentation for vehicle registration and operation.
Lastly, the operating authority, also known as motor carrier authority, allows trucking businesses to operate and transport specific types of goods. Different types of authority require different insurance filings and are subject to particular rules and regulations. Motor carrier insurance is necessary to maintain compliance with both state and federal laws.
Keep in mind, New Jersey commercial truck insurance filings are of paramount importance in maintaining legal compliance and protection for trucking businesses (Progressive). By understanding the various types of filings and requirements, business owners can navigate the complexities of the trucking industry with greater confidence and peace of mind.
Choosing The Right Insurer
At TruckingInsurance.org, we understand that choosing the right insurer for your New Jersey commercial truck insurance is essential to protect your business and your livelihood. With various insurance companies offering different coverage options and features, it's crucial to consider a few key factors while selecting an insurer.
Reputation and Expertise: Look for an insurance company specializing in commercial truck insurance, as they are more likely to understand the specific needs of your industry. Some of the well-known insurance companies in New Jersey include Progressive, Nationwide, NITIC, The Hartford, and Commercialinsurance.net. These companies have established reputations and expertise in the commercial truck insurance sector.
Coverage and Customization: Evaluate the policy offerings of each insurer to ensure they provide the necessary coverage for your business needs. Bobtail coverage, cargo coverage, physical damages insurance, and non-trucking liability are some of the essential coverage types for trucking businesses. Choose an insurer that provides customizable policies to tailor the coverage to your specific requirements.
Affordability and Discounts: Compare premiums from various insurance companies and look for insurers that offer competitive rates without compromising coverage. Some insurers, like Old Republic International Corp, are known for their affordable premiums. Additionally, ask about discounts for safe driving records, bundling multiple policies, and more, as this can help reduce your overall insurance costs.
Customer Service and Claim Handling: Consider an insurer with a strong record of customer satisfaction and efficient claim handling. This can often be as crucial as the coverage itself, as it ensures a smooth experience when you need assistance or during a claim. Nationwide and The Hartford are recognized for their customer satisfaction.
By considering these factors and carefully evaluating multiple insurers, you can make an informed decision about the right New Jersey commercial truck insurance company for your needs. Remember that the right insurance policy not only provides peace of mind and protection for your business, but it can also save you time and money in the long run.
Influence of Vehicle Types and Profession
Influence by Vehicle Type
Different types of commercial vehicles have different insurance needs and costs, which can affect New Jersey commercial truck insurance. Some common vehicle types include:
Trailers: These vehicles can range from small utility trailers to large 53-foot semi-trailers. Insurance rates for trailers depend on the size and value of the trailer and the cargo it carries.
Tow Trucks: Tow trucks are used to transport damaged or immobile vehicles. Due to the potential for causing additional damage and the high-risk nature of their work, tow truck insurance rates might be higher compared to other commercial vehicles.
Flatbed Trucks: These trucks are designed for transporting large or oddly-shaped cargo, which may require unique insurance coverage. Flatbed truck insurance rates may vary based on the value of the truck itself and the specific cargo it carries.
Delivery Vans and Box Trucks: Often used by small businesses for various deliveries, these vehicles are usually insured under a business auto policy. Rates depend on factors such as the size of the fleet, the location of the business, and the value of the cargo being transported.
Food Trucks: As a growing trend, food truck insurance is tailored to the unique needs of these mobile kitchens. Coverage includes property protection for cooking equipment and liability for food-related incidents.
Intermodal and Refrigerated Trucking: These specialized vehicles are designed for transporting goods in containers or maintaining temperature-controlled cargo. Insurance rates might be higher as they often transport valuable or perishable goods.
Influence by Profession
Different professions have unique insurance requirements and risks associated with their commercial vehicle usage. Below are some examples of professions and their influence on commercial trucking insurance rates:
For-Hire Livery: Any vehicle used to transport people for a fee, such as taxis, limousines, and non-emergency medical transportation (NEMT) vehicles, must be insured with commercial auto coverage. Due to the nature of transporting passengers, for-hire livery insurance rates might be higher than that of other business vehicles.
Small Business Owners: Small businesses using commercial vehicles like delivery vans and box trucks for business purposes are subject to insurance rates based on their fleet size, location, and cargo value.
Interstate Trucking: Professionals operating in commercial trucking and transporting goods across state lines, particularly those dealing with intermodal and refrigerated trucking, may have insurance rates influenced by both the value and specialized nature of their cargo.
Understanding the influence of vehicle types and profession is crucial for business owners to make informed decisions on their New Jersey commercial truck insurance needs. Whether it involves private passenger vehicles or large commercial fleets, proper coverage can protect against potential risks and financial losses.
Major Cities for Trucking in New Jersey
Edison
Edison is a strategic location for trucking in New Jersey due to its proximity to major highways such as I-95 and I-287. The city is home to various distribution and logistics centers, making it an essential hub for trucking operations. Drivers in Edison need to have appropriate commercial truck insurance policies to ensure they are protected while transporting goods within the city and beyond.
Elizabeth
Elizabeth, located in Union County, is another significant city for trucking in New Jersey. Elizabeth is a key transport center, hosting one of the country's largest shipping ports, Port Newark-Elizabeth. Truckers in Elizabeth should ensure they carry proper commercial truck insurance that includes coverage not only for liability but also for cargo and physical damages.
Jersey City
With its close proximity to New York City, Jersey City serves as a major hub for trucking operations in the region. Many large warehouse and distribution centers are located here. Truck drivers in Jersey City need to have the proper level of commercial truck insurance to protect against potential risks and liabilities, considering the city's busy roads and congested traffic conditions.
Newark
Newark, the largest city in New Jersey, is another important location for trucking operations. It has an extensive transportation system that includes key highways, railways, and Newark Liberty International Airport. The city hosts many distribution centers, making Newark a significant player in supplying goods to neighboring areas. Having the right commercial truck insurance is vital for truckers operating in Newark to protect their businesses and meet regulatory requirements.
Paterson
Paterson, located in Passaic County, is a city where trucking plays a crucial role in moving goods within the region. Its accessibility to major highways, such as I-80 and Route 20, ensures efficient delivery of cargo. Drivers in Paterson must have the necessary commercial truck insurance coverage, including auto liability, bobtail insurance, and cargo insurance, to reduce the risks associated with transporting goods.
Woodbridge
Lastly, Woodbridge, situated in Middlesex County, offers a strategic location for trucking operations due to its access to the New Jersey Turnpike and the Garden State Parkway. As a key site for various businesses that rely on trucking for transportation of goods, commercial truck insurance is essential for driving in and around Woodbridge to help protect drivers and businesses from potential liabilities and damages.
Adjacent States and Intrastate Trucking
Trucking in the Northeast region of the United States involves traversing various states, specifically the ones adjacent to New Jersey. These include Delaware, New York, Pennsylvania, and Maryland. Each state has its own commercial truck insurance requirements and regulations, making it essential for trucking businesses to stay informed and adhere to these rules when operating in the area.
Delaware offers a variety of options and agents for adequate commercial truck insurance to ensure smooth operations across state lines. Coverages may vary depending on the nature of the business and the type of cargo being transported.
New York has specific requirements for commercial trucking insurance which need to be followed based on the size and weight of vehicles, as well as the nature of the cargo carried. The state also has various online resources and tools to help businesses understand and comply with these requirements.
Pennsylvania mandates minimum liability coverage for commercial trucking. Like other states, the amount of coverage needed is determined by factors such as vehicle size, cargo type, and other related aspects.
Maryland requires commercial trucking companies to carry minimum liability insurance, as well as cargo and physical damage coverage based on the nature of trucking operations and the cargo transported.
Intrastate trucking within New Jersey has its specific set of guidelines and requirements for commercial truck insurance. The mandatory minimum liability coverage is $25,000, which may increase depending on the overall risk associated with the type of freight being hauled. For example, liability coverage for hazardous materials can reach up to $5,000,000, while transporting oil necessitates at least $1,000,000 in coverage.
Business vehicles operating within the New Jersey trucking environment not only need to comply with intrastate regulations, but must also be prepared for any requirements specific to the states they are traversing.
Complying with these commercial truck insurance regulations and requirements for interstate and intrastate trucking operations across New Jersey and its adjacent states is crucial for the success and safety of any trucking business.
What is the average cost of commercial truck insurance in New Jersey?
The cost of commercial truck insurance in New Jersey varies depending on factors like the type of truck, coverage required, and the nature of the business. On average, the cost of commercial truck insurance in New Jersey is around $14,827 per year. Most premiums range from $12,260 to $16,176, based on truckers with one truck operations needing insurance for liability, cargo, and physical damage.
It is essential to note that these figures serve as a general guideline, and individual rates can differ significantly due to the numerous factors considered by insurance providers. Some of these factors include:
Associated risks: Heightened risk factors, such as carrying hazardous materials can contribute to higher insurance costs.
Driving history: Truck drivers with clean driving records can usually secure more favorable insurance rates, whereas those with past violations or accidents may face higher premiums.
Truck value: High-value trucks can cost more to insure due to the higher potential cost of repairs or replacement.
To better understand the pricing structure, insurance companies nationwide use various rating factors to calculate individual rates. For example, the national average monthly cost for commercial truck insurance can range from $736 for specialty truckers to $1,125 for transport truckers.
Operators seeking commercial truck insurance in New Jersey should shop around, comparing quotes from multiple providers to find the most competitive and suitable coverage for their specific needs. By doing so, truckers can ensure they have the right protection in place while managing costs and adhering to industry regulations.
Frequently Asked Questions
Which companies offer the best commercial truck insurance in New Jersey?
There are several companies offering commercial truck insurance in New Jersey. It is important to research and compare the policies they offer, as well as the level of customer service provided. Some of the top companies include Progressive, Berkshire Hathaway, and National General. Keep in mind that the best company for your specific needs may differ depending on your situation, type of vehicle, and coverage requirements.
What are the requirements for obtaining commercial truck insurance in NJ?
In New Jersey, all vehicles, including commercial trucks, are required to have auto liability insurance. Commercial truck insurance in NJ may have additional requirements depending on the nature of your business and the type of cargo you transport. Some of the common requirements include:
A valid commercial driver's license (CDL) for the operator(s)
Proof of a clean driving record, without any major accidents or traffic violations
Adequate liability coverage to protect your assets in case of an accident
Cargo insurance to cover the value of the goods you transport
Physical damage insurance to cover damages to your vehicle(s) as a result of an accident, theft, or natural disasters
Make sure to consult with an insurance expert or state agency to ensure you're meeting all the necessary requirements for your specific business.
How can I find the cheapest commercial truck insurance in NJ?
To find the most affordable commercial truck insurance in New Jersey, consider the following tips:
Shop around and compare quotes from multiple insurance providers.
Review the premium rates based on factors such as your truck's age, make, and model, as well as the type of cargo you transport and the geographic areas you operate in.
Maintain a clean driving record by practicing safe driving and avoiding traffic violations or accidents.
Complete safety training courses which may result in lower premiums.
Install safety and security devices, such as dash cams or GPS tracking systems, to potentially reduce your insurance costs.
Regularly review your policy and ask your insurance provider about discounts and special offers.
Remember that the cheapest policy may not always provide the best coverage for your business. Make sure to carefully analyze the policy details before committing to ensure you're getting the right protection for your trucking operation.