Snow Plow Insurance Requirements
Snow plows are gearing up for the cold winter months. However, before you begin plowing your first driveway or parking lot, you need snow plowing insurance. Managing your risks will help you absorb potential liability lawsuits and land more jobs.
Customers are more likely to hire you to plow if you have insurance.
If you don't have commercial snow plow insurance, you may not be considered for some of the better paying commercial jobs.
Snow Plowing Insurance 101
Snow plowing insurance is designed to protect your:
Business
Vehicles
Personal assets
Home
If you're in an accident, you're liable for any damage you cause. However, if you're snow-plowing and cause property damage, you may also be liable for damages. Insurance will help protect you against these unknown risks.
Additionally, if you have employees, the right snow removal insurance coverage will protect them and you.
What Kind of Insurance Do I Need for Snow Plowing?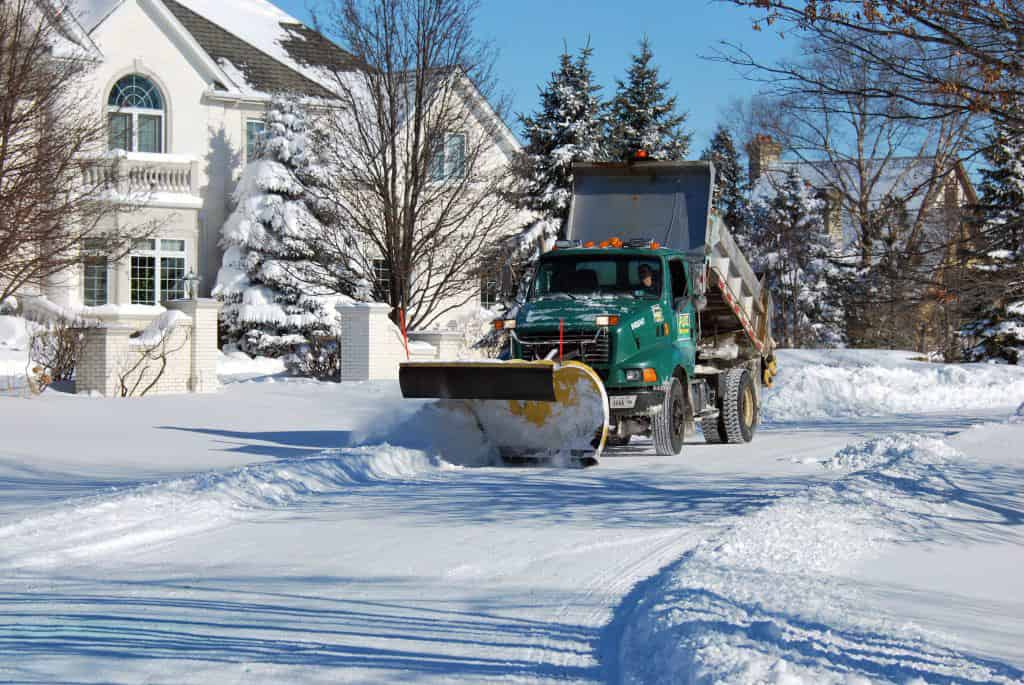 The level of coverage you need will depend on how big your operations are. However, there are typically three coverages found in snow plowing insurance:
1. General Liability Insurance
A major coverage that is common with any commercial entity is general liability insurance. This coverage offers a wide range of coverage for:
Bodily injury: Which may occur at your office or when performing your duties on the job.
Property damage: A risk that is present in any business. If you damage property during a job, you'll be held liable for this damage. Property damage coverage will protect you against these claims.
Most liability risks are covered under a general liability insurance policy. However, there are other forms of coverage that you need to have for maximum protection.
2. Commercial Auto Insurance
Snow plows are considered commercial vehicles the minute that you receive money for a job. Your personal auto insurance is unlikely to cover damages if you decide to put a snow plow on your personal vehicle and start plowing for customers. In this case, you'll need commercial auto insurance, which will cover:
All vehicles in your fleet
Snow plow equipment
However, during the off-season, you can drop down to a seasonal comprehensive plan. Seasonal plans allow you to boost your insurance coverage during snowy months and go to a lower insurance tier during the other months of the year.
Note: If you continue to use your truck for commercial purposes outside of winter, you'll want to discuss your insurance needs with your insurer.
3. Workers' Compensation Insurance
If the owner of the business is the only one plowing, you do not need workers' compensation insurance. However, the moment that you hire an employee, you will need to check with your state's workers' compensation laws.
This form of insurance protects workers if they're injured or become ill at work.
What to Do If Your Crew Owns Their Own Trucks and Plows
Many snow plow companies work as an intermediary, where they will secure jobs and hire others with a truck and snow plow to help. If you find yourself in this situation, you'll want to consider hired and non-owned insurance.
This type of policy will protect you from liability from third-party injuries.
What does this mean?
If the driver was in an accident or caused damage to property while driving for you, the coverage would limit your liability from:
Lawsuits against the driver
Damage costs
However, your insurance will protect your business and not the driver. The driver of the truck will be responsible for repairing their own vehicles and equipment. Personal liability is also not covered and would fall on the driver and not your company.
What Insurance Limits Should I Get?
Every state has a right to set its own minimum general liability limits. Most companies will want to consider going above the minimum limit to protect against higher claims. A good example is the State of New York has a $15,000 minimum general liability limit.
Other states, such as New Jersey, have just a $5,000 minimum.
You'll need to review your state's specific coverage. An insurance agent in your state can also help you determine the minimum coverage necessary.
It's always better to have a higher limit and more protection against liability than risk having too little coverage and having to pay expenses out of pocket.
Snow Removal Insurance Coverage Costs
The costs you pay for insurance will vary drastically, but most smaller operations will pay between $400 and $2,000 per year. However, this figure can go much higher depending on the scale of your operations, vehicles and more.
Maintaining costs is key to remaining profitable.
A few cost-related measures to consider include:
If your business risk increases, you need to consider increasing your liability coverage. For example, if you have 10 accounts and bring on an additional 10 accounts, consider increasing your limits. The same rule should apply to new hires.
Coverage can vary from one day to the next. If you sell major assets, lose accounts or reduce your workforce, review your insurance and lower limits to reflect these changes.
Limits can be increased or decreased based on the circumstances of your business. For example, you may find that this season is particularly warm, so lower your insurance, when possible, instead of paying unnecessary costs.
How Snow Plowing Insurance Costs are Calculated
Costs will vary drastically from business to business and location to location. Multiple variables are taken into account to determine your insurance premiums. A few factors that will influence your premiums are:
Claims history – if you have a long history of making claims, insurers may see you as a high-risk individual to insure.
Coverage – the more coverage you have and the higher your limits, the higher your premiums will be.
Employees –each employee you add to your team increases your risks and premium costs. The driving history of your employees may also be considered when determining your premiums.
Vehicles – each vehicle will add to your premiums, but insurers will also consider the vehicle's age, value, safety equipment and more.
Location –the location where you operate will also play a role in how your premiums are calculated.
Tips When Buying Insurance
Purchasing your first insurance policy can be intimidating. However, if you follow the steps below, you can make the process easier:
Bundle. You may be able to bundle insurance coverage to save on premiums. If you're trying to find coverage for your snow plow business, start an insurance quote for snow removal companies to find the best price for coverage offered.
Compare. Request multiple quotes from numerous insurers to find an option that is perfect for your business. You can even use these quotes as leverage when negotiating premium prices because agents may use this info to lower your premiums, if possible.
You should have as much information available as you can when talking to insurers. Ensure that you have information pertaining to all of the business's assets, employees, claims history, accounts and more.
Agents will ask you for this information once they have you on the phone.
If you have the information available, it will make it easier to go through the quote process and get the best rate possible. Price shopping and getting quotes from a handful of companies will make it easier for you to get the most coverage at the best price possible.