Log truck insurance provides vital liability and damage coverage for log haulers transporting millions of tons of logs.
Hauling logs is a tricky business. Drivers have to navigate winding roads – often dirt or gravel – and highways across the country to sawmills.
If you operate a log truck or run a fleet of log trucks, it's essential to understand your insurance requirements and how much it will cost for your coverage.
Logging Insurance Requirements
Logging insurance requirements can vary from state to state. However, most states will require you to carry:
Liability: A crucial part of your coverage, liability covers physical damage and bodily injury to third parties. It will also cover legal defense costs if a lawsuit is filed.
Physical damage: A physical damage policy will cover damages to an owned trailer and the truck. When comprehensive is included, it will cover damage from natural disasters, like floods and earthquakes.
Cargo: As you may have guessed, cargo insurance covers any cargo you're carrying (e.g., the logs).
Uninsured motorist: Each state has its own requirements for uninsured motorist coverage, but this is something that you don't want to skimp on. This policy ensures that damages and injuries will be covered if you're in an accident with an uninsured motorist or it's a hit and run.
Limits for these coverages may vary, but higher limits are preferred because accidents and injuries can be very costly with logging trucks.
How Much Does Log Truck Insurance Cost?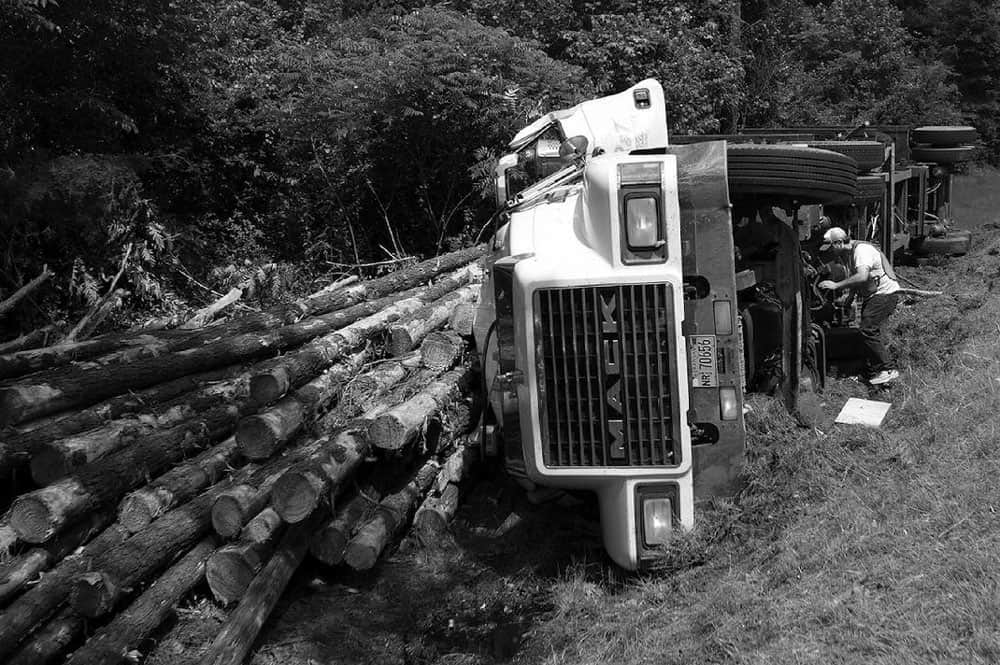 Premiums for log truck insurance will depend on several factors, including your:
Location
Claims history
Hauling region
Driving history
Whether there's a safety program in place
Whether you're a leased owner-operator or own your truck outright
Age and value of the truck
If you're an owner-operator who's leasing, you can expect to spend anywhere from $3,000 to $5,000 a year on log truck insurance.
Owner-operators with their own authority will likely pay more – about $9,000-$12,000 per truck.
Overall, log truck insurance costs between $8,000 and $15,000 per year. These costs assume that you are carrying $750,000 in liability with new equipment.
Why is Log Truck Insurance More Expensive?
Log truck insurance comes at a higher cost because the risk is higher. In addition, hauling logs is different from hauling cargo in an enclosed trailer.
Some of the risks that are unique to logging trucks include:
Truck Tipping
Logs are heavy – and that's an understatement. All of that extra weight and the way logs are hauled significantly increases the risk of the truck tipping over. A flat tire can easily tip the truck over.
Log trucks often travel on bumpy dirt and gravel roads, which not only increases the risk of a flat, but also increases the risk of the truck tipping.
If a log truck tips over, the damage can be catastrophic. It's not uncommon for individual logs to weigh a ton (literally). A tipped over truck can easily cause property damage, injuries and even death.
Extra-Heavy Weight
Federal highways have a weight limit of 80,000 pounds, but state highways sometimes have higher limits. Logs are exceptionally heavy, and that enormous weight makes accidents more severe and deadly.
Costly Accidents
The heavy weight of a logging truck makes accidents more costly. An accident with a logging truck is more likely to kill or seriously injure people traveling in passenger vehicles. It's also possible for a log truck to jack-knife and injure or kill the trucker.
Outside of injuries and fatalities, log trucks can cause massive property damage.
Without proper insurance coverage, an accident with a log truck can easily bankrupt a business or an owner-operator. Additionally, you may have to face lawsuits, and the legal fees will come out of your own pocket.
Comparing Logging Insurance Companies and Saving on Premiums
Like any other type of insurance, it's important to compare your options and find the best policy at the best price. While you shouldn't sacrifice coverage for the sake of cost, you can certainly shop around to find the best rate for the coverage you need.
Here are a few ways to reduce your log truck insurance costs:
Pay the Premium in Full
Most insurance companies will offer a discount, usually 5-10%, if you pay your premium in full. For example, if your premium is $10,000 per year and the insurance company offered a discount of 10% for paying in full, you would save $1,000.
It's worth paying the premium in full if you can. The insurance company may be willing to further negotiate on the premium in exchange for full payment.
Implement a Safety Program
If you want to reduce your premium as a fleet owner, implement a safety program. Remember – the reason why log insurance premiums are so high is because of the increased risk. Safety programs ensure that drivers follow the best practices to avoid accidents, which lowers your risk.
Check with the insurance company to find out what kind of safety discount is available and the requirements for qualifying.
Over the long-term, a safety program will not only save you on insurance costs, but overall costs due to fewer accidents and injuries interrupting operations.
Work with a Broker
It sometimes pays to work with a broker, especially one with knowledge and experience in log trucking. It's important for your broker to understand the industry and its terminology.
Brokers can often find the best policies at the best rates, which will save you time. However, do keep in mind that some brokers charge a broker fee rather than working on commission. If they work on a fee basis, this will add to the overall cost of your insurance.
Ask for Discounts
When comparing policies, ask about discounts. Unfortunately, insurance companies don't always disclose all of their discounts, and you won't know what kind of savings you can achieve if you don't ask.
Bundle Policies
It's common for insurers to offer discounts for bundling policies. If you have another policy through a company that also provides log truck insurance, ask about discounts for having multiple policies.
Shop Around
The best way to save on your premium is to shop around and compare the rates of different insurance companies.
Have Good Credit and a Safe Driving Record
Your credit and driving record will also impact your premium. If you have poor credit, work on improving it. It may take some time, but once your score is higher, you can comparison shop to see what kind of savings you can achieve.
Also, make sure that your driving record is clean. If you already have some blemishes on your record, make it a priority to maintain a safe driving record from here on out.
If you run a fleet of log trucks, ensure that you're hiring safe drivers with clean records. The insurer will look at the driving history of each driver when quoting your premium.
The Bottom Line
If you drive a log truck or you run a fleet of log trucks, having the right type and amount of coverage is crucial. It's a high-risk sector of the trucking industry, and the last thing you want is to have inadequate coverage. While log truck insurance is more costly than other types of trucking insurance, it's worth the expense.
Using the tips above and comparing insurance companies or working with a broker can help you save the most money on your premium.