CoverWallet Insurance for Truckers
CoverWallet insurance for truckers aims to streamline the insurance process for owner-operators and fleet owners. When you work with the insurer, they'll tailor insurance policies to the unique needs of your business to:
Provide maximum coverage
Save you money
Reduce liability risks
Who is CoverWallet?
CoverWallet is making headlines in the world's largest publications, including Forbes, Fortune, WSJ and VentureBeat – to name a few. The insurance company is part of the Aon Company, and they:
Operate in 120 countries
Maintain a workforce of 50,000 people
Have $125 billion in risk premiums placed annually
As a budding startup with a lot of potential, CoverWallet provides truckers with policy quotes in minutes and maintains an impeccable customer satisfaction level.
CoverWallet Semi Truck Insurance Coverage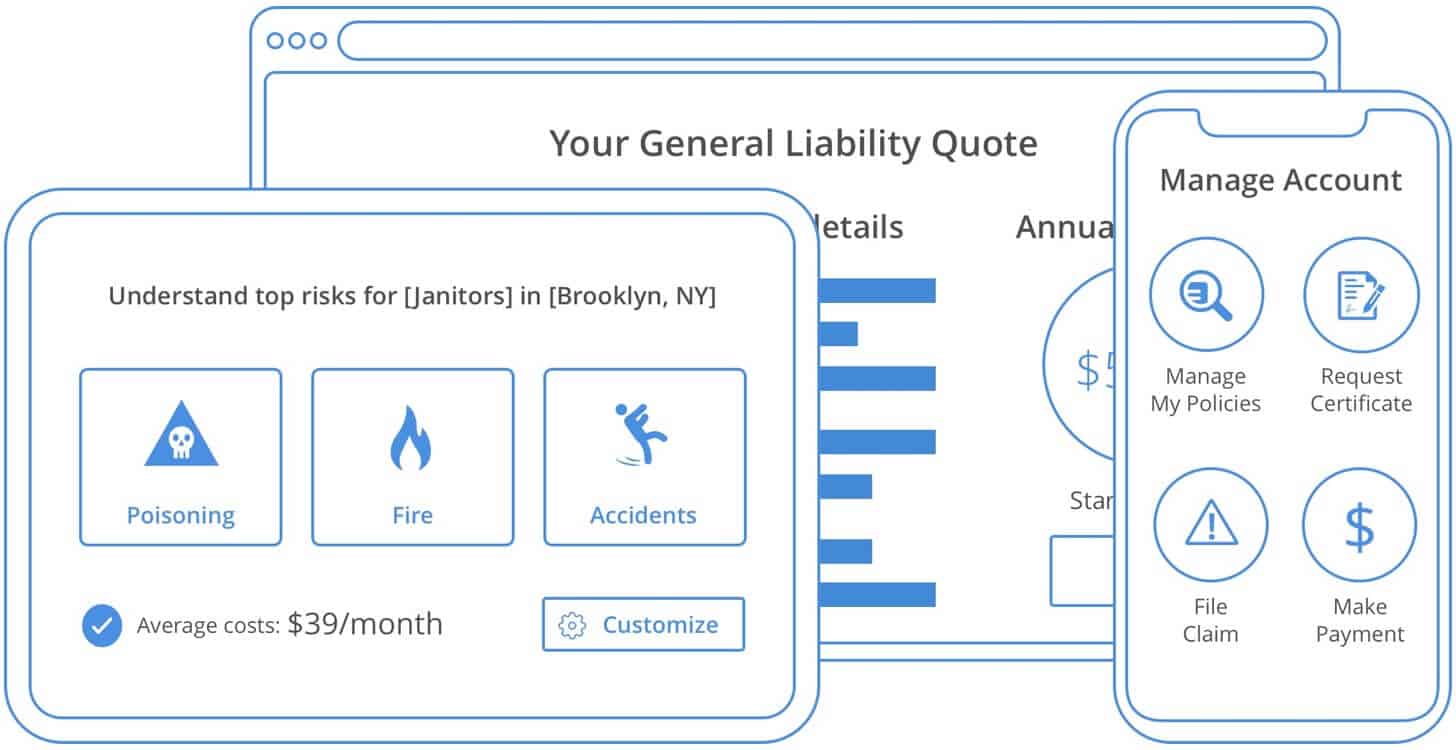 CoverWallet provides commercial truck insurance – and custom semi-truck insurance plans. While semi-truck insurance does offer great coverage (discussed in detail below), it's only one of many types of insurance a trucking company can obtain and may require (varies by state).
In fact, there are multiple forms of insurance that can be added to a policy with CoverWallet, including:
Bobtail: When you're in between loads and not hauling anything, bobtail coverage kicks in. This form of coverage is also necessary when you've just delivered a load and are on your way back to your home. Unfortunately, trucking liability coverage is only active when you're hauling goods – not when you've dropped them off already.

General liability: Trucking operators and fleets with a physical location will need general liability insurance. If customers walk in the door for a meeting or an employee comes to talk to you about their route and they trip and fall, your business is liable for injuries. General liability offers you protection against these claims so that you're not liable for damages.

Motor truck cargo: If you're in an accident when you're towing a load with you, you'll be liable for damages. Motor truck cargo insurance provides coverage when a load is in your control, custody or care. For example, if you're in a collision or the goods were damaged in a fire, this form of insurance would pay to replace all of the items that may have been damaged.

Non-trucking liability: In some instances, non-trucking liability is required. This form of insurance provides coverage when you're using a vehicle for something other than commercial trucking. For example, non-trucking liability would be required if you used your rig to relocate a friend and an accident occurred in transit.

Physical damage: Physical damage is the equivalent of collision and comprehensive for a traditional driver. If your truck is damaged in an accident, physical damage coverage will help pay for repairs and get your truck back on the road as soon as possible.

Trucking liability: If you cause damage to a property or injury to a person, trucking liability will kick in. This form of liability offers superb coverage. In fact, the federal government requires all interstate truckers to have $750,000 or more in liability coverage.

Workers compensation: Also known as workers comp, this form of insurance offers protection against liability if someone working for you is injured on the job. Additionally, the employee benefits from having lost wages paid under the insurance and also their medical bills covered. Your state may require that you have workers' compensation insurance for your employees by law.
Your insurance policy may have some or all of the coverage options above. Therefore, it's crucial for you to work alongside an insurance specialist who can help you review policy exclusions and understand where gaps in coverage may pose significant liability risks.
Pricing Your Coverwallet Insurance Policy
CoverWallet provides personalized quotes for all forms of trucking insurance. Multiple factors play a role in premium costs, including:
Coverage options available as part of your policy
Total coverage amount and limits
Types of trucks that are in your fleet or that you're operating
Cargo type and hauling destination
Driving record of your drivers
Experience that you have in the industry
If you're hauling hazardous materials, you can expect your premiums to be higher because there's more risk of damages if an accident occurs. You must maintain a good driving record and focus on safety training if you want to keep policy premiums low.
Coverwallet Semi Insurance Coverage
Your big rig is your business's lifeline. If your rigs are not on the road, they're wasting money. Semi-truck insurance helps protect your trucking operation, whether you're running short or long haul.
CoverWallet offers a team of insurance specialists that will evaluate your needs and provide the coverage you need to minimize liability risks. Since your needs will vary if you're an independent owner-operator or a large fleet, it's crucial to work with a knowledgeable insurance agent to fill in the gaps in your coverage.
As a standard, the semi-truck insurance offered through CoverWallet covers:
Bodily Injury: If someone is injured in a trucking accident, bodily insurance will cover medical expenses, legal defense expenses and even settlement costs. Due to potentially large settlement and medical costs, bodily injury insurance is one of the most important forms of insurance you can obtain.

Property damage liability: Accidents can lead to property damage to others. For example, if a trucker is in an accident, the other vehicles involved in the accident that need replacement or repair would fall under property damage liability. Additionally, any other forms of property damage that occurred will be covered, including damage to light poles, signs, buildings and other property.
When working with the professionals at CoverWallet, you'll also receive additional coverage as needed. For example, you can fill in the gaps in your insurance for medical payments, physical damage and even cargo insurance.
Semi-truck insurance is not optional.
Every state has some form of insurance that must be met to cover the state's minimum property damage liability limits and bodily injury liability limits.
Motor carriers may provide insurance, but you need to make sure that you have all of the coverage needed to run your business properly. It's better to discuss your needs with an expert before relying entirely on motor carrier insurance to protect against liability.
Of course, CoverWallet offers insurance options, covered in the last section, which can also be added to a policy.
CoverWallet Business Insurance
Are you running a business and want to obtain insurance that protects:
Property?
Employees?
Your business?
If so, CoverWallet can help draft a policy that provides you with impeccable insurance to limit your business's liability and risks.
CoverWallet insurance for truckers provides protection against liability claims and more. If you have a fleet of trucks or operate as an owner-operator, CoverWallet's physical damage insurance for semi-trucks is an excellent option.
Visit CoverWallet.com for detailed plans and options.